Decarbonizing the Northwest Summer 2022 Webinar Series Digest
The 2022 Decarbonizing the Northwest webinar series was hosted by the NW Energy Coalition through June and July. This year's series was focused on the most pressing, forward-looking decarbonization issues as the Northwest leans in on transforming our energy system to meet climate and equity goals.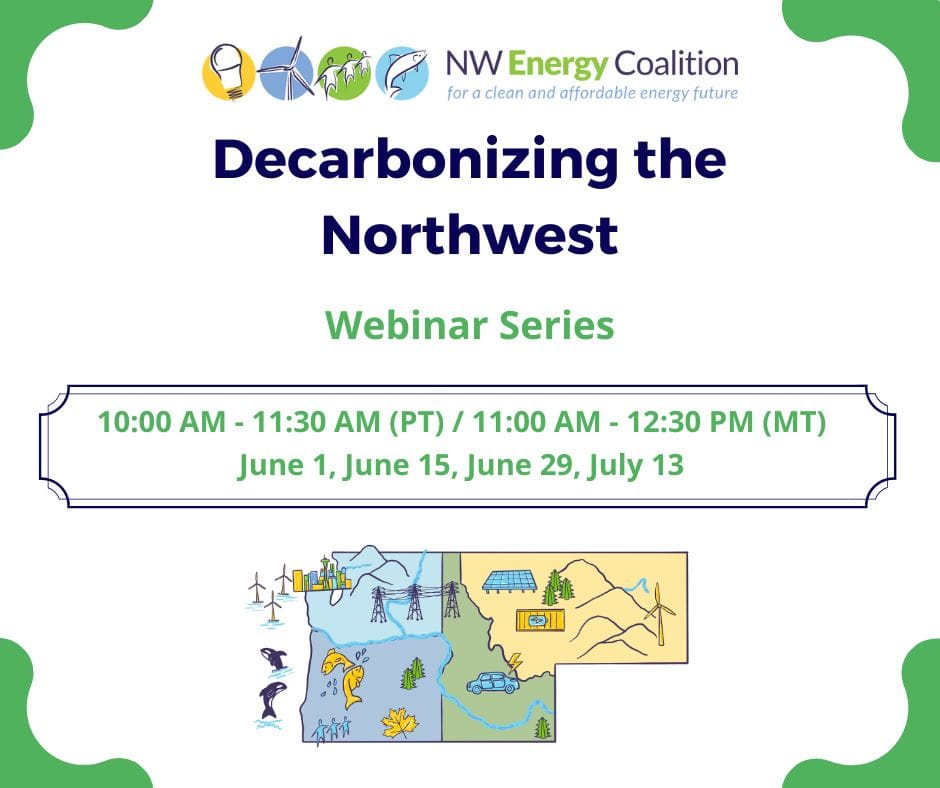 The four sessions took place on the following dates and were focused on these topics:
June 1: Decarbonization and Load Growth: Maintaining Our Focus on Energy Efficiency
June 15: Regulatory Tools to Advance Decarbonization
June 29: Electricity Markets' Role in Delivering Clean Energy
July 13: Evolving Technologies Showcase
Thank you to event sponsors Earthjustice, Puget Sound Energy, Tacoma Power, McKinstry, RTO ERO Net Zero Insider, and Northwest Energy Efficiency Council.
June 1: Decarbonization and Load Growth: Maintaining Our Focus on Energy Efficiency
Energy efficiency is foundational to decarbonizing our energy system. It must be the cornerstone of managing load to ensure that consumption does not increase unabated. Moderator Smita Gupta from the New Buildings Institute guided the audience through a conversation detailing how energy efficiency is a pivotal tool for our region as loads increase from transportation electrification and building decarbonization. Panelists brought enlightening perspectives, from a regional view to a utility view to a market view, to inform us all on the role of energy efficiency in a decarbonized energy system.
Tina Jayaweera, Power Planning Resource Manager from the Northwest Power and Conservation Council (NWPCC), kicked off the session by walking through a regional view of a dynamic energy landscape via NWPCC's 2021 Northwest Power Plan. Tina explained that many states across the West have passed clean energy policies, resulting in coal retirements, large renewable energy builds, and cheaper renewable energy. As renewable energy prices drop, energy efficiency has more low-cost competition and is less effective to deploy. Furthermore, the intermittent nature of renewable energy means the timing and dispatchability – the ability to turn a resource on and off quickly – of resources and efficiency is becoming more and more important. The 2021 Power Plan suggests adding up to 1000 aMW of energy efficiency by 2027 to our region's history of 7,200 aMW.
Emeka Anyanwu, Energy Innovation and Resources Officer for Seattle City Light (SCL), followed up on a regional view from Tina by speaking granularly about Seattle City Light's approach to energy efficiency. Emeka shared a study that looked at the impacts of electrification of transportation and buildings in SCL's service territory, driving home the fact that the ability to manage demand is key to electrification impacts, especially during peak demand hours. Emeka then shared SCL's 2022 Integrated Resource Plan (IRP), which calls for 100 MW of energy efficiency and significant demand response programs and pilots that Emeka outlined during the session.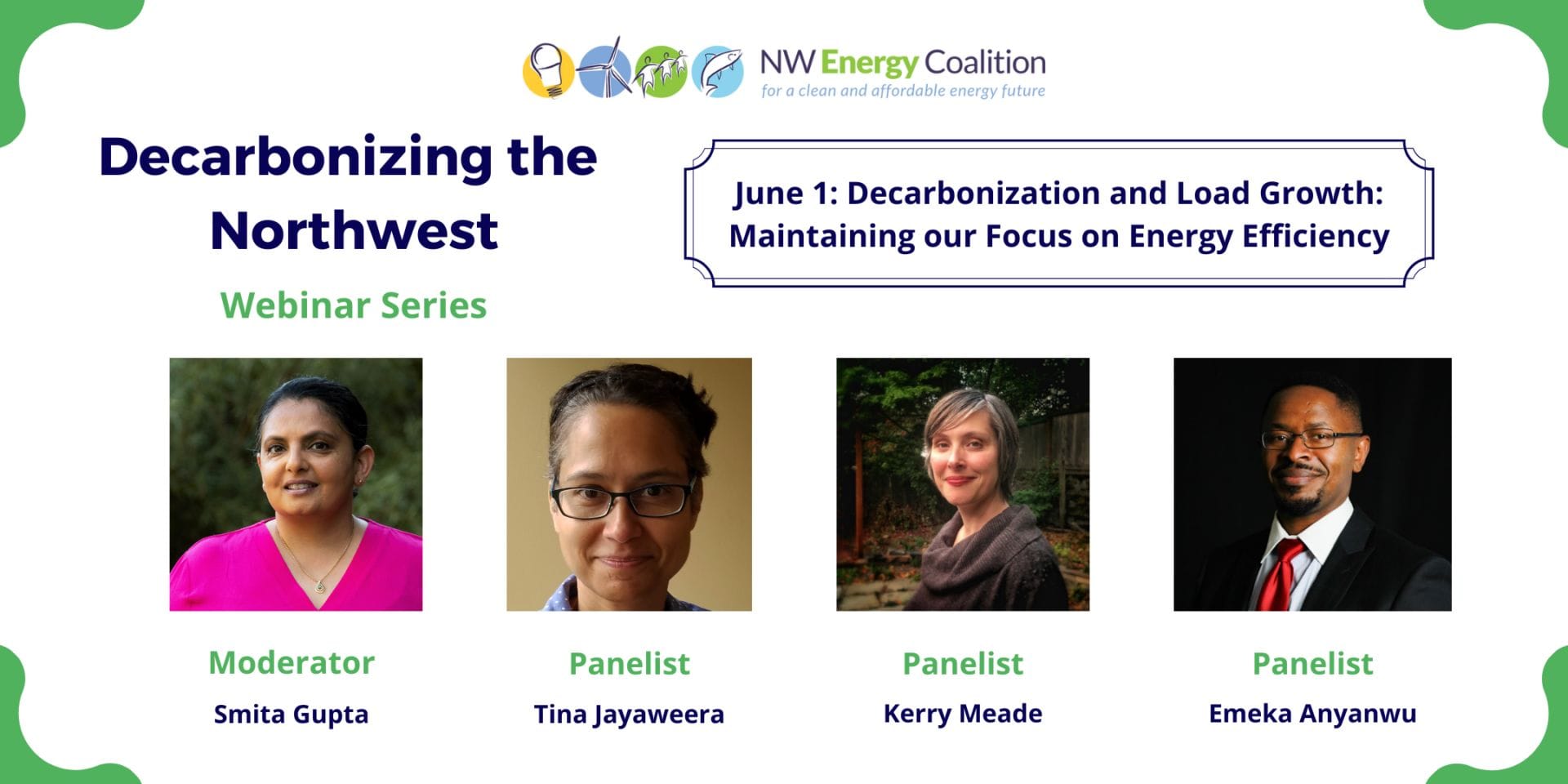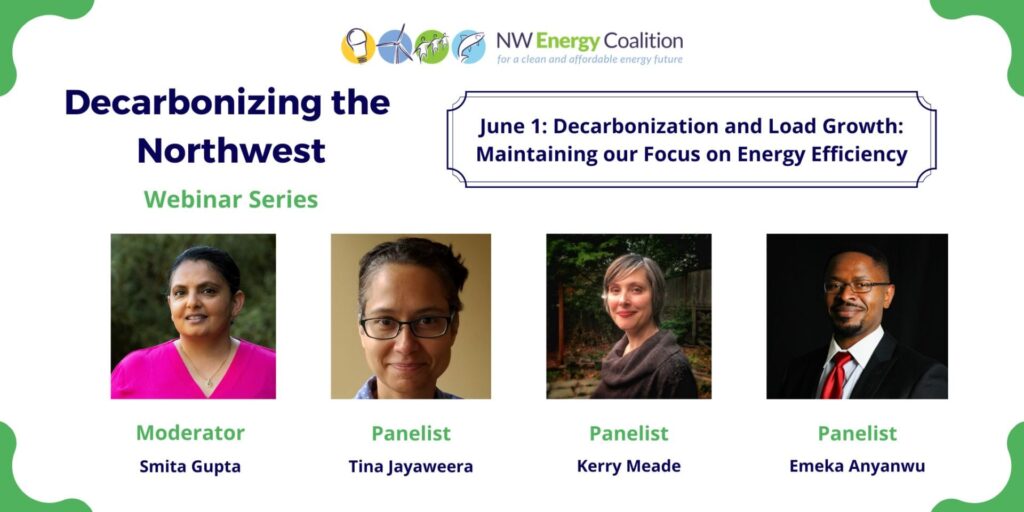 Kerry Meade, Executive Director for the Northwest Energy Efficiency Council, followed Emeka by discussing the role of markets in driving energy efficiency adoption. Kerry set the stage by putting energy efficiency in the context of massive load growth by 2050, explaining that energy efficiency must play a role as we electrify our transportation and buildings. Fortunately, technological change is driving forward market dynamics that may increase the uptake of energy efficiency. For example, as Kerry laid out, in the future there must be a shift towards efficiency that is outcome-based and measure-agnostic, meaning efficiency should be deployed where it has holistic value. Furthermore, grid-interactive efficient buildings will allow users to plug in and out of the grid, who then receive payments for leveraging their onsite renewables and batteries.
During an informative 45-minute discussion with all three panelists and the moderator, audience members asked various questions on the topic of load growth and energy efficiency. Tina and Emeka are optimistic that demand response will play a larger role in the coming years, as the timing of load demand becomes more important. Panelists, in unison, agree that innovation – from microgrids to distributed storage to demand response – are key as the grid continues to decentralize and decarbonize. A question all panelists grappled with is how to drive innovation quickly and at scale. Fortunately, as Kerry noted, states are trying new pilots all the time and can learn lessons from each other. One innovative program recently began in California; the Market Access Program pays consumers for innovations that drive actual efficiency savings at the meter during peak load hours. However, as Tina and Emeka noted, while energy efficiency is becoming less cost-effective, sometimes decisions around efficiency upgrades (such as weatherization) must be adjusted to account for underserved communities, which should be upgraded regardless of cost.
June 15: Regulatory Tools to Advance Decarbonization
Policy and markets alone cannot drive an equitable, affordable, clean energy system. We need clear and firm regulatory guidance to help utilities and their customers make smart choices and be sure we achieve the full benefits of a decarbonized system. Nancy Hirsh, Executive Director of NW Energy Coalition and moderator for this session, led the audience through a dynamic conversation about the role of regulatory tools in achieving our climate and equity goals.
Rachel Gold, Principal and RMI, began the conversation by raising the importance of regulators delivering support to utilities in states that have already taken aggressive legislative climate action. Rachel shared RMI's brand new State Climate Scorecard for Washington and Oregon, which shows a snapshot of progress of states towards a 1.5° C (2.7° F) aligned future. Both Washington and Oregon have made significant progress in the transportation and electricity sectors, but have serious work to undertake in order to reduce emissions from buildings and industry. Rachel then walked through several interesting regulatory tools from regions around the US.
Caroline Moore, Division Administrator with the Oregon Public Utility Commission (OPUC), gave an overview of some of the main decarbonization policies that the OPUC is implementing. Caroline highlighted the fact that policies targeting emissions reductions are required to maximize benefits and minimize burdens for those most affected by climate change and underserved communities. She then focused on HB 2021, the recently passed electric decarbonization law in Oregon that requires 100% carbon free electricity by 2040, has protections for reliability and affordability, and incorporates environmental justice and labor considerations. Closing out, Caroline highlighted future focus areas for the OPUC, such as how to remain flexible while still making progress and how to evolve community engagement and input.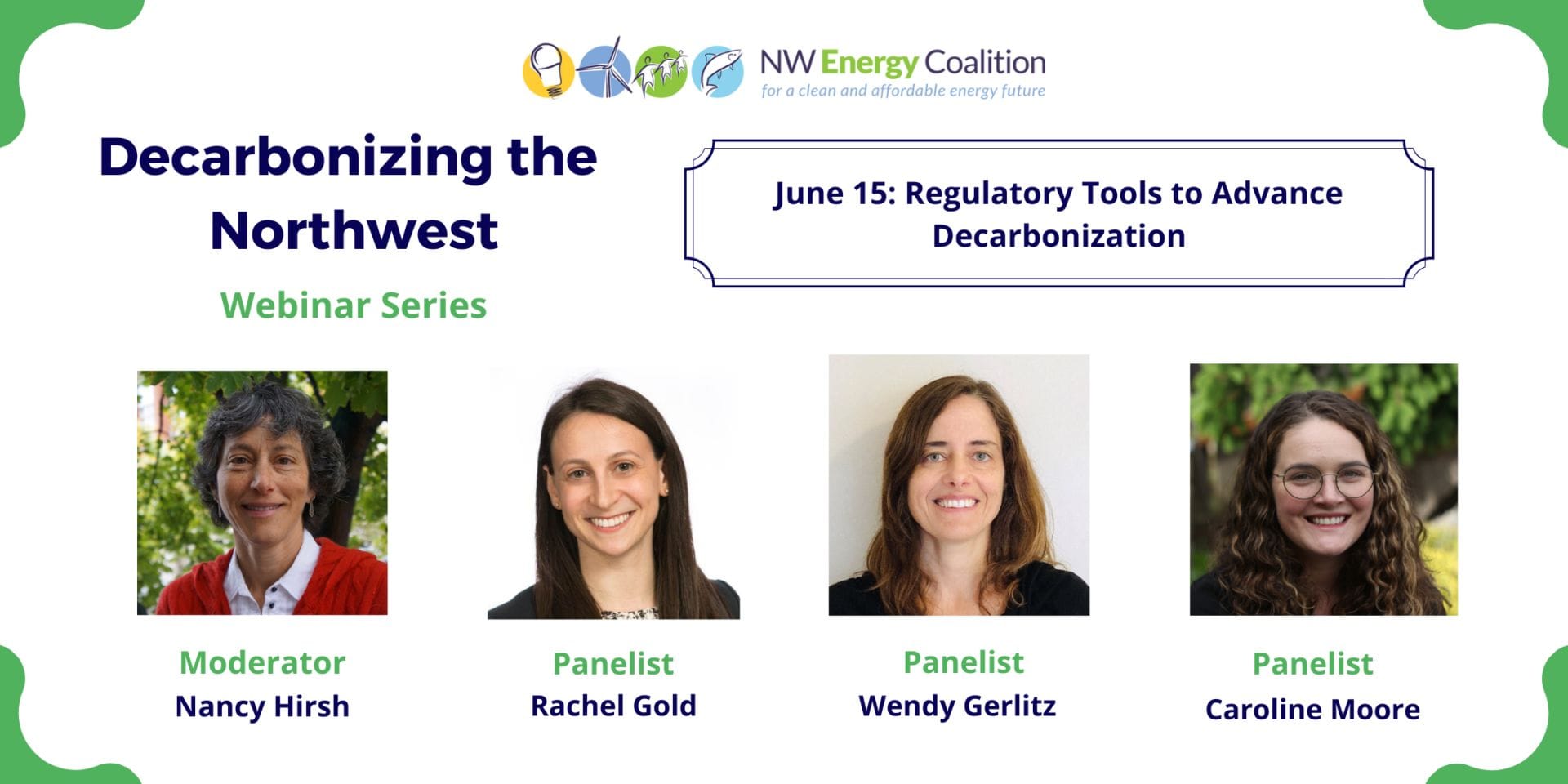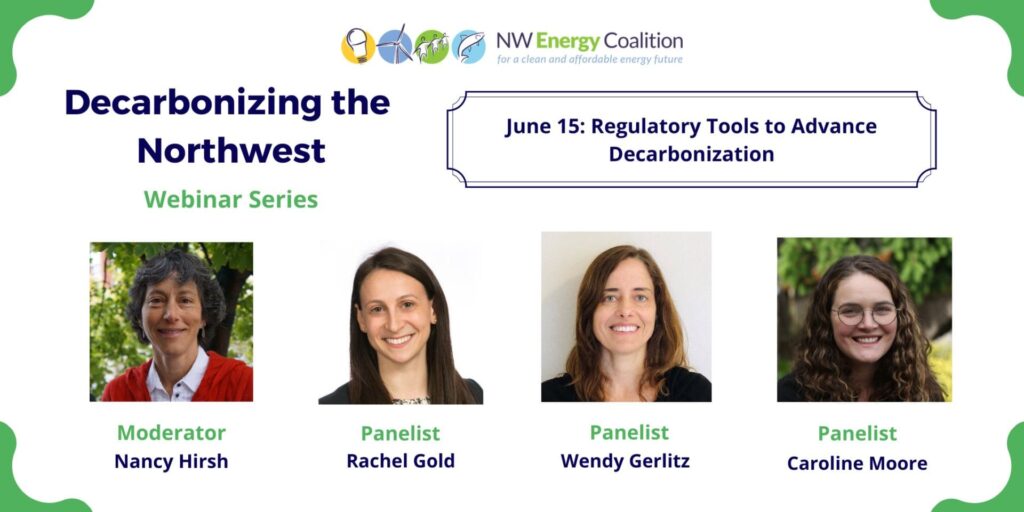 Wendy Gerlitz, Regulatory Policy Manager with Puget Sound Energy (PSE), gave a utility view of regulation for a decarbonized energy system. She spoke about PSE's plans to become a "Beyond Net Zero Carbon energy company" by 2045 by reducing both their electricity and gas emissions while helping other sectors reduce carbon. Electricity emissions reductions follow implementation of Washington's 2019 Clean Energy Transformation Act (CETA), which requires all electricity to be 100% carbon free by 2045. Wendy also explained PSE's commitment to equity. Via their diversity, equity, and inclusion (DEI) playbook, PSE is working to incorporate DEI into everything that it does, including working with an equity advisory group to help implement CETA.
The three panelists then dove into a wide-ranging discussion of the regulatory landscape, and where regulation can – and can't – play an important role in the clean energy transformation. Throughout the conversation, Caroline emphasized the need for regulators to be nimble and quick in a dynamic industry, while also being sure to center justice and community voices so that community benefits are felt. Rachel encouraged a bias towards action as cumulative emissions continue to accrue. All three panelists are encouraged by current technological trends, from declining cost curves to new innovations, and hope to see regulation play a role in continuing those trends. While there is much to be optimistic about, regulatory planning continually needs more info, such as the intricacies between the gas and electric systems, and procedures must be updated as equity is centered and public utility commissions see their mandates expand.
June 29: Electricity Markets' Role in Delivering Clean Energy
A more integrated western grid brings efficiencies and opportunities for decarbonization. Electricity markets are increasingly important for flexibility and resource adequacy. Lauren McCloy, Policy Director for the NW Energy Coalition and the panel's moderator, talked with market experts about the considerations that must be addressed to create a strong western market: governing bodies of markets representing the public interest of all stakeholders, and the design of the market effectively promoting customer side resources.
Jennie Chen, of World Resources Institute, gave a broad overview of Regional Transmission Organizations (RTOs) and Independent System Operators (ISOs), and their importance in bringing new resources onto the grid and ensuring resource adequacy. Jennie referenced several already established RTOs or ISOs, such as the Midcontinent Independent System Operator (MISO), bringing real life examples of how these structures function. Jennie also discussed the Federal Energy Regulatory Commission's (FERC), which regulates RTOs and ISOs, orders 88 and 2000, which establish minimum requirements of RTOs and ISOs.
Rebecca Wagner, Owner and President of Wagner Strategies, outlined two key components of a "modernized RTO": an effective governance model and a robust stakeholder process. Rebecca brought experience from her time as a member of the Western Energy Imbalance Market's Governance Review Committee to enlighten the audience. She emphasized trust as the key necessity for any successful energy market. Rebecca then named several aspects that are important for building trust in a truly independent board: freedom from financial conflict, diversity of backgrounds and skillsets, a nominating committee full of diverse voices, and a robust, inclusive, and transparent stakeholder process. Rebecca, having a dearth of experience in markets in the West, gave examples throughout her presentation.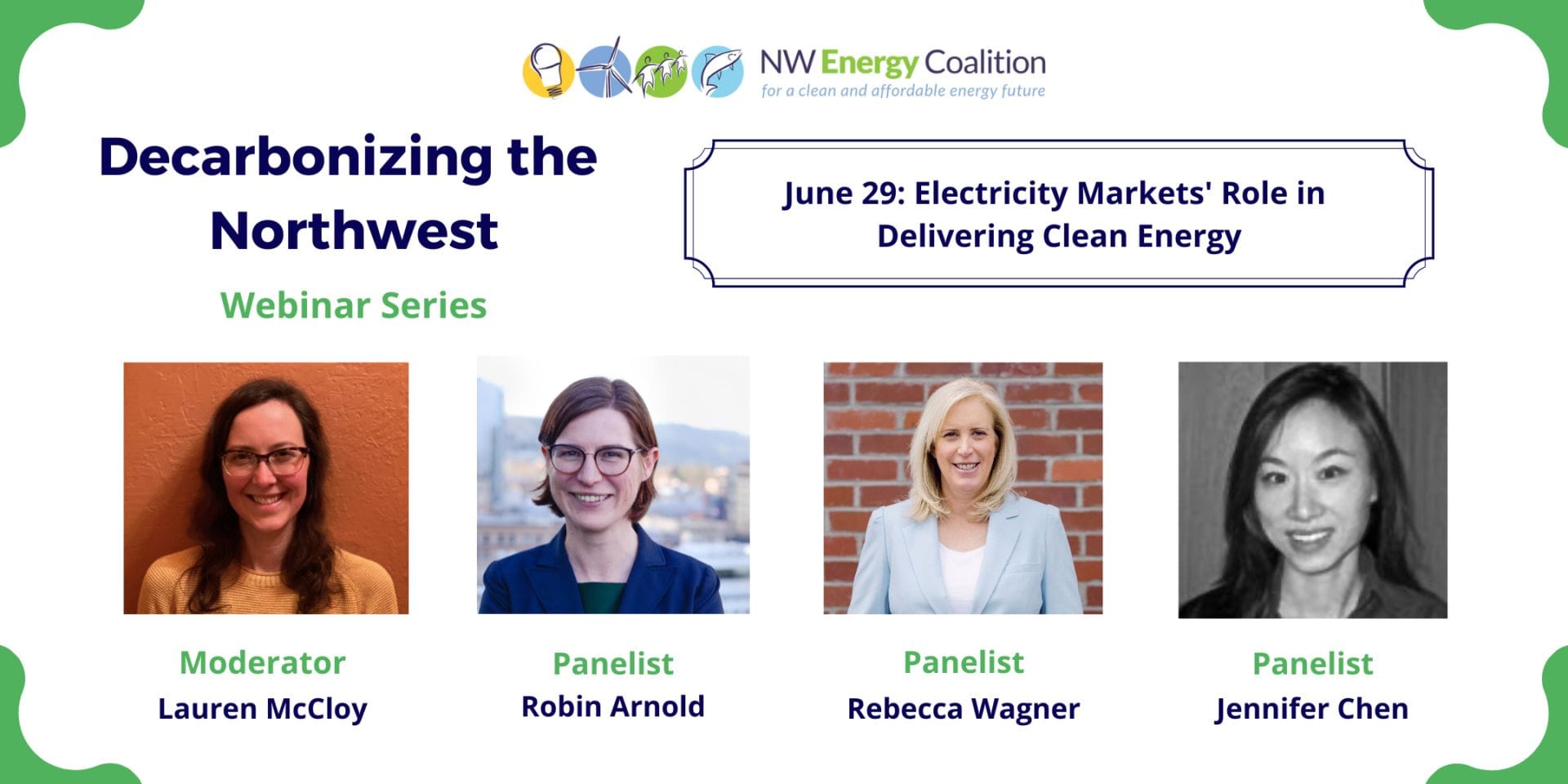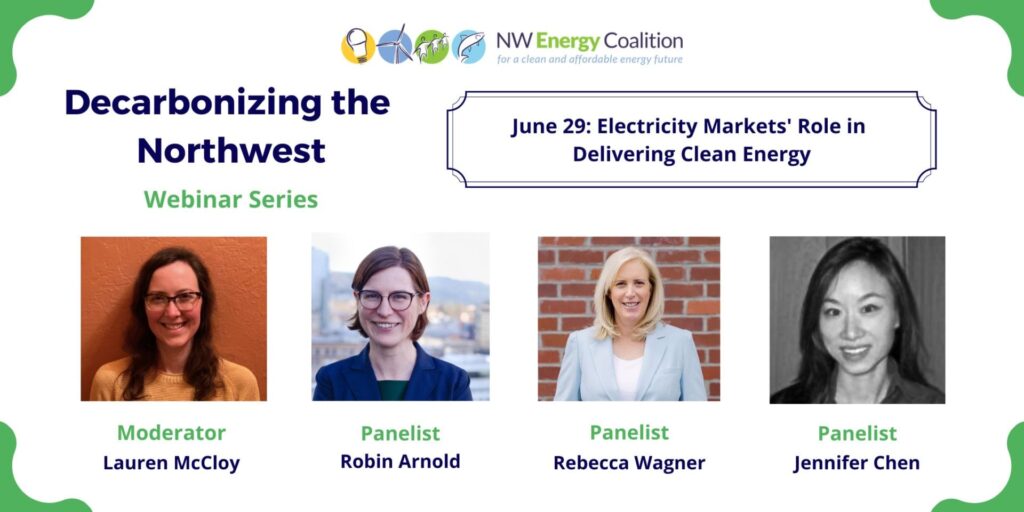 Robin Arnold, Markets and Transmission Director with Renewable Northwest, tackled the tricky issue of market governance. She started off by defining stakeholders as anyone who has an interest in market impacts, from utilities to trade organizations to labor to public interest organizations, and maintained that all stakeholders should have a say in market governance. Robin emphasized that by including all stakeholders, market design will incorporate all resources equally – utility and non-utility, storage, distributed resources, energy efficiency, and demand response. Robin then walked through two programs, the Northwest Power Pool (NWPP) and Southwest Power Pool (SPP) that are looking to expand to a western market, their proposed market governance structures, and issues with their structures.
During a brief discussion, the panelists discussed the pros and cons of a regional market versus a West-wide market and the importance of ensuring that demand side resources are equally valued in a market. All panelists agreed that valuing demand side resources equally in a market is important and adds flexibility to meet resource adequacy and load through demand response programs. The three panelists also concurred that a West-wide market is much preferred over a region-only market. The larger the footprint of the market, the higher the diversity of resources that are available and accessible for utilities to meet loads. Jennie used an example of the Texas winter cold snap and Texas's very limited ability to access resources from neighboring MISO due to their isolationist energy grid. A higher diversity of resources allows optimization across time and geography, making the whole system more efficient and bringing down costs.
For more introductory info on markets in the West, check out our 3-part blog series.
July 13: Evolving Technologies Showcase
The fourth and final session of "Decarbonizing the Northwest" was a showcase for specialists in a handful of quickly evolving fields to explain up and coming technologies that are entering the market and have the potential to play a significant role in the clean energy transition.
Whitney Hauer, Renewable Energy Specialist with the Bureau of Ocean Energy Management (BOEM), which resides in the US Department of Interior, kicked off the showcase with a succinct presentation on offshore floating wind turbines. Whitney walked the audience through the process of developing offshore wind resources, with the ongoing process on the Oregon coast as an example. Due to the massive complexity and various permitting stages, the BOEM Wind Energy Authorization Process can take around a decade to complete planning, analysis, leasing, site assessment, construction, and operations. For example, BOEM has jurisdiction over federal waters, 3 nautical miles offshore and further, but cables bringing offshore wind energy onshore must travel through state and local waters as well. The process has just begun for the Oregon coast as of April 2022, when BOEM released a Call for Information and a 60-day comment period began. The Call included two areas off of southern Oregon's coast, and BOEM expects about 3 GW of offshore wind to be developed across those two areas. Leasing auctions are expected to begin by the end of 2023. More information can be found here.
Jonathan Yan, Charging Infrastructure Consulting Engineer at Daimler Truck North America, followed Whitney, presenting on Electric Island, a public charging station in Oregon for both passenger and heavy-duty electric vehicles (EVs), such as the-heavy duty EVs that Daimler manufactures. Electric Island, a partnership of Portland General Electric and Daimler Truck North America, was completed in April 2021 in order to test vehicles with a wide array of different electric chargers (which are consistently being updated and improved). The site is unique due to its design, allowing ample room for large 18-wheeler trucks to maneuver, easy exchange of new charging infrastructure as technology improves, and the foresight to construct for additional chargers and onsite renewable energy in the future. The site is a testing site for Daimler, which has offices just across the street, but is also open to the public and charges charging rates of 15 cents per kW when most of Portland charges 30-40 cents per kW. Daimler has plans to add storage in the form of new and used batteries, a showcase building for tours, more new charging infrastructure, and onsite solar generation. Jonathan explained that they hope to replicate this site on the East Coast and then Texas.
After Jonathan, a team that is developing high voltage direct current (HVDC) cables across the Cascades on the Oregon-Washington border presented. Chris Benson, Director of Operations at PowerBridge LLC, and Corey Kupersmith, Co-Founder and Managing Partner at Sun2o, explained that HVDC can carry energy over a farther distance than traditional transmission lines, without as much loss of energy. The team is currently working on a project to bury an HVDC transmission line along the Columbia River from Dalles, OR to Portland, OR. The project will allow renewable energy, which is much more abundant on the east side of the Cascade Mountain Range, to be transported to areas of higher population, such as Portland, OR. In fact, a slide of Corey's showed that over 99% of projects (by MW) in Bonneville Power Administration's interconnection queue are located east of the Cascades. The project is now in the permitting stage, expected to be completed by the end of 2027, and should have minimal impacts to the Columbia River the important fish and wildlife habitat it provides.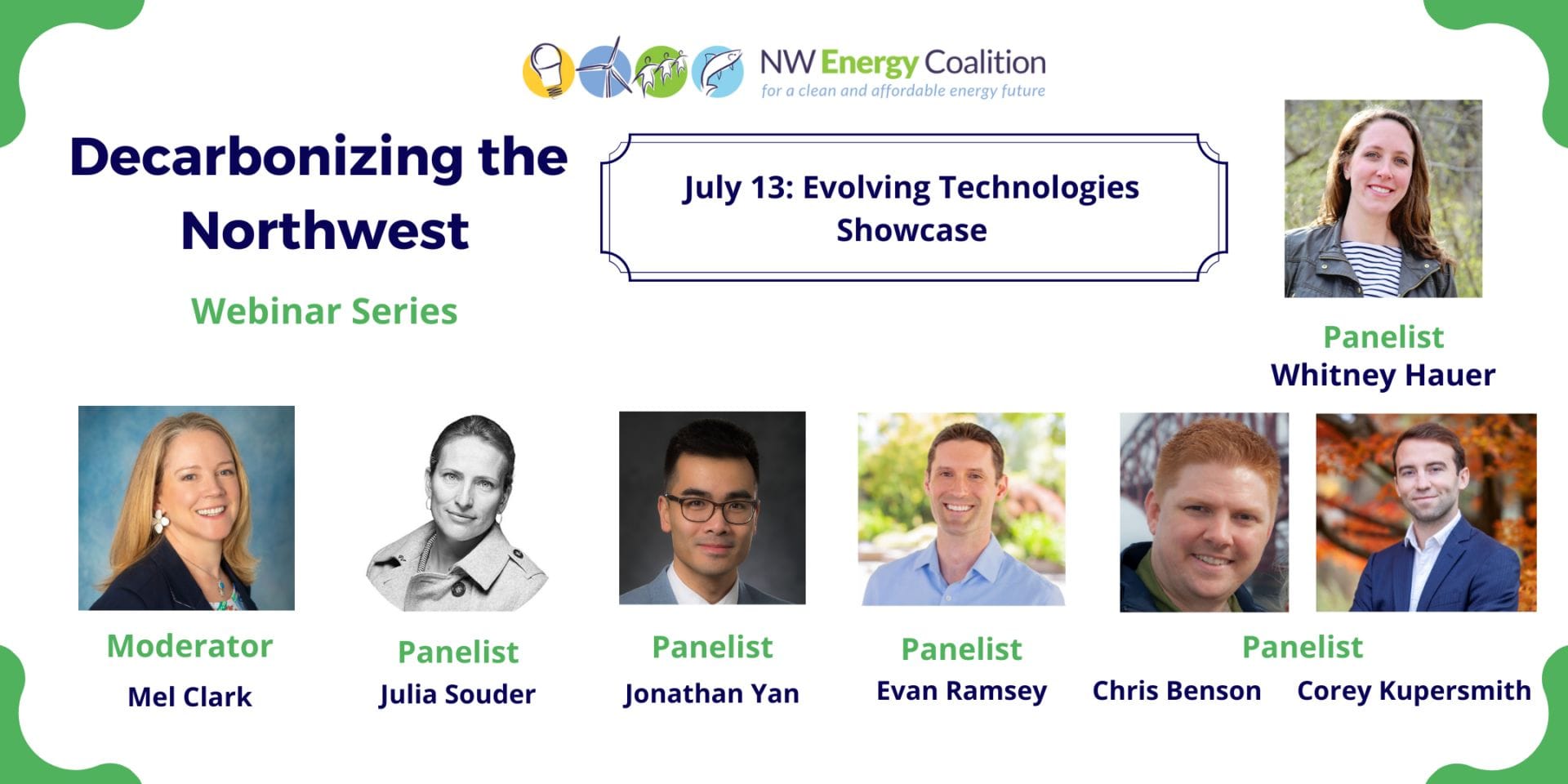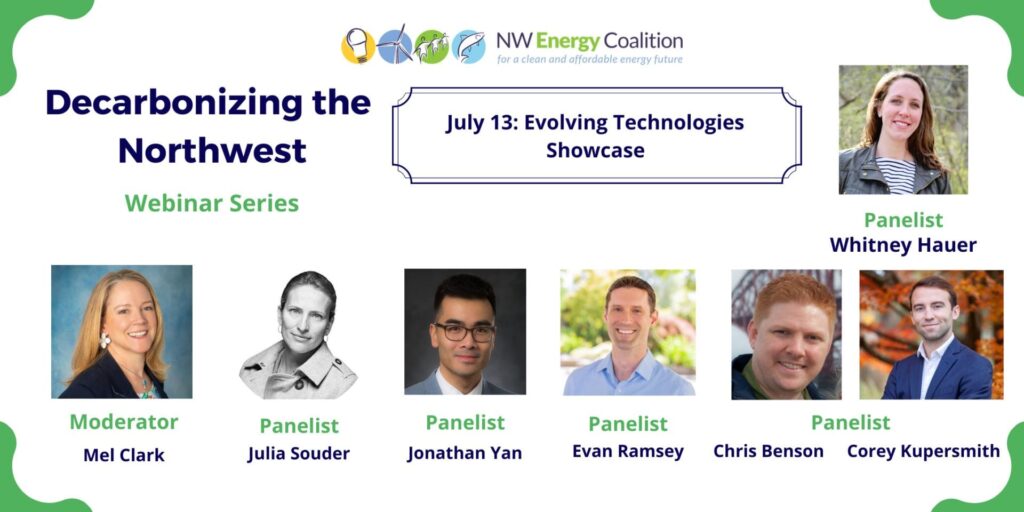 Following Chris and Corey was Evan Ramsey, Senior Director of Renewables at Bonneville Environmental Foundation, speaking about renewable hydrogen. Evan began by showing the multitude of potential uses of renewable hydrogen: fuel for vehicles, fuel for industrial processes, and electric generation or storage. Evan also spoke to the timeline of developing renewable hydrogen for each of its potential purposes with some small-scale projects up and going but few uses at development maturity. Along with more than 30 stakeholders, Evan and Bonneville Environmental Foundation, developed a Renewable Hydrogen Action Plan for the Pacific Northwest to further the development of renewable hydrogen. The first renewable hydrogen fueling stations have received funding and the Washington Legislature passed SB 5910, which contains several renewable hydrogen incentives and created a new Office of Renewable Fuels.
Closing out the day's panel was Julia Souder, Executive Director of Long Duration Energy Storage Council. Julia works with manufacturers, developers, and start-ups of long duration storage to advance the much-needed development of the new technology. Long duration energy storage (LDES) can play many roles in the power sector and the heat (for industrial purposes, for example) sector. LDES can provide flexibility to the electric grid, such as shifting the use of renewable energy that would otherwise be curtailed or providing ancillary grid services. Currently, there are dozens of types of LDES that are grouped by thermal, electrochemical, mechanical, or chemical mechanisms. Each type can have different uses; some are commercially ready and others are just entering the market.