Water heaters: a potent weapon in the fight against climate change
We may have, hiding in our basements and garages , a clean energy resource that has the power to erase the need for new gas-fired power plants in the Northwest.
That's one implication of a new report on grid-integrated water heaters (GIWH) from the Bonneville Power Administration (BPA) and its partners, the Northwest Energy Efficiency Alliance (NEEA), Portland General Electric (PGE), and seven other utilities.
The year-long study examined how electric water heaters equipped for two-way communications with utilities can be efficiently managed to help reduce electric system demand during peak periods wile still ensuring that households have hot water when they need it.
The study findings show that, if enough homes and buildings are equipped with grid-integrated water heaters, total peak demand in the region could be reduced by more than 1,000 megawatts – enough to prevent the need for several additional gas-fired power plants.
ABOUT THE STUDY
The study was conducted with 277 residential customers participating. Some relied on conventional electric resistance water heaters and others had newer, more efficient heat pump water heaters. Each unit was equipped with a CTA-2045 device (like a "USB for appliances") that enabled communication between the utility and the water heaters.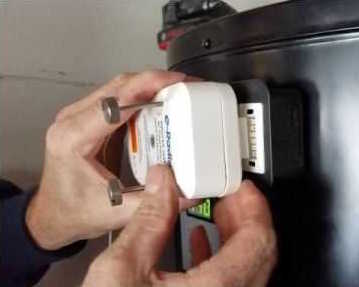 These grid-integrated water heaters were turned off and on by the utility in response to a variety of grid conditions while making sure that hot water was available to customers when it was needed. Over the course of the study, there was no measurable increase in the number of occasions on which customers lacked a sufficient supply of hot water. In a follow-up survey, over 94% of participants said they would be likely to sign up for a utility program based on this technology.
While grid integration improved the performance of electric resistance water heaters, it was even more effective with heat pump water heaters that already operate with greater efficiency and lower electric usage.
THE STUDY'S IMPLICATIONS
There are over 3 million water heaters in the Northwest, almost all with a 4.5 kilowatt heating element.  Since about 8% are running at any given time, the technical potential for demand reduction exceeds 1000 megawatts for an hour or two when temperatures are very cold or very hot and regional electricity demand is at a peak.
In addition to reducing demand during peak periods, grid-integrated water heaters can help integrate thousands of megawatts of new wind and solar energy by preheating water when renewable energy is available thereby further reducing demand at other times.
That's exactly what we need to retire coal plants faster, avoid the need for new gas power plants, reduce greenhouse emissions, and improve system reliability.
Best of all, grid-integrated water heaters perform these functions much less expensively than gas power plants or batteries, creating savings for utilities, which can be shared with residents and building owners as a means of encouraging participation.
Eventually, the CTA-2045 standard may also facilitate the integration of other flexible resources including refrigerators, HVAC (heating, ventilating and air conditioning) systems, electric vehicles, and more.
WHAT HAPPENS NEXT?
The cost to equip water heaters with CTA-2045 devices at the factory is less than $100.  The GIWH project sponsors are already working to develop a supply chain with three manufacturers — Rheem, A. O. Smith, and Bradford White – that, between them, supply 90% of the water heaters in the Northwest.
In addition to making sure there is a ready supply of grid-integrated water heaters, participating utilities will also need to persuade customers to install them. To ensure that market penetration is sufficient to produce potential system-wide benefits, utilities, their trade partners, supporters like the NW Energy Coalition, and even regulators will need to develop public awareness campaigns and promote adoption by customers.
Portland General Electric is already incorporating several thousand CTA-2045-enabled water heaters into its Multifamily Residential Demand Response Water Heater Pilot.  Work is also starting on including CTA-2045 in state energy codes.
It will take a few years to achieve the full potential of turning electric water heaters into a powerful tool for cleaning up the grid. But, the GIWH study provides a solid foundation and a clear picture of the benefits of doing so.
The hope is that, not long from now, anyone with an electric water heater can choose to help accelerate our transition to a 100% renewable and clean electric system in the Northwest — and get bill savings for doing so.
This GIWH project is the first-ever full scale test of grid-integrated water heating, and will be a model for the region and the country. The NW Energy Coalition congratulates BPA, NEEA, PGE and the seven participating utilities — Clark Public Utilities, Emerald PUD, Franklin PUD, Puget Sound Energy, Snohomish County PUD, Springfield Utility Board and Tacoma Power — for a job well done.
The CTA-2045 Water Heater Demonstration Final Report and associated resources can be found at:
https://www.bpa.gov/EE/Technology/demand-response/Pages/CTA2045-DataShare.aspx