2021 Quarterly Newsletter
This newsletter is a snapshot of some of the work of the Coalition and the broader community over the past quarter. It highlights but does not include all of the work we've done. We're looking forward to continuing to share these quarterly updates with you. As always, if you have questions contact us.
Organizational announcements: Welcome Lauren McCloy!
Most of you know by now that Lauren McCloy has joined the NW Energy Coalition as Policy Director. Lauren comes to the Coalition after eight years in state government, first with Ways & Means Committee staff, then as legislative director and policy advisor to the Washington Utilities and Transportation Commission, and most recently as Governor Inslee's senior policy advisor. We want to thank the Coalition staff who doubled down during this transition from Wendy to Lauren and continued their excellent work during this challenging time. Welcome Lauren!
Justice, Equity, Diversity, and Inclusion
In recent years, NWEC has begun to institutionalize justice, equity, diversity, and inclusion (JEDI) into our work. This began in 2014 with board and staff trainings. In 2016, the board and membership adopted a new strategic plan to "collaborate with organizations engaged with ethnically and racially diverse communities that have been underserved or harmed by the energy system and work toward a membership and staff that better reflect state and regional demographics." Since, we have continued to improve programmatic partnerships with BIPOC communities and to institutionalize equity internally.
In January we established a JEDI council to help develop a JEDI commitment and accountability statement, which will help guide our strategic planning efforts. The JEDI council includes staff, board, and membership representatives, and a consultant. This is the next phase in our JEDI journey and we look forward to continuing to learn and grow.
Regional Updates
NW Power and Conservation Council
NWEC staff has been deeply involved with the Power Council for the 2021 Plan modeling, particularly as it relates to energy efficiency and demand-side resources. We have convened a group of clean energy advocates and technical analysts concerned about the early modeling, which showed a dramatic decline in energy efficiency and a large increase in fossil gas over the next 5 years. For this process, we are bringing in Energy Strategies, who worked with us on the 7th Plan, and the LSRD Clean Energy Replacement study, to assist in technical review. The draft plan is scheduled to be issued in July, followed by a 60-day public comment period.
Covid-19 Update
The economic and public health effects of the Covid-19 pandemic are ongoing. The Coalition has continued to track Commission and utility actions to protect customers. In Washington, Governor Inslee has amended and extended the Emergency Proclamation 20-23 on ratepayer assistance and preservation of essential services, extending the Washington utility shutoff moratorium through July 31, and the eviction moratorium through June 30, 2021. Investor-owned utilities have waived deposits for new customers and late fees through at least the end of 2021 and have created new programs and plans to support customers, including new funding of up to 1% of Washington state retail revenues, additional to any new federal funding coming to the state.
In Oregon, the Public Utility Commission (PUC) has also extended the moratorium on disconnections and late fees for customers until June 30, 2021, and added other Covid-19 stipulations for utilities. 1% of revenues, approximately $39 million, have been set aside to support customers who have been impacted by the pandemic. Late fees, disconnection fees, and deposits have been eliminated through at least October 2021. Governor Brown has extended Executive Order No.21-05, which declares a statewide state of emergency due to the Covid-19 pandemic, that has been extended through May 3, 2021.
Congressional Leadership Joins State Leadership on Salmon and Energy
Rep. Mike Simpson (R-ID) released his Salmon, Dams & Energy proposal and accompanying $33.5 billion Columbia Basin Fund, with the removal of the four lower Snake River dams as a central possibility to provide fewer barriers to passage for salmon and other species to and from some of the best habitat in North America. The framework recognizes that the electricity industry is in the midst of dramatic change driven by climate change and technological innovation. This proposal joins the four Northwest Governors in a call to all stakeholders in the region to come together and craft enduring solutions to restore Columbia basin salmon and support the expansion of our clean energy economy and infrastructure. The Simpson proposal offers close to $17 billion for power replacement, grid modernization, energy storage, and transmission. The Coalition is analyzing the energy provisions of this bold proposal and doing outreach to our members and other stakeholders. We hope this effort works in collaboration with the objectives outlined by the Governors in October 2020. This is a watershed moment in the long history of conflict over salmon and hydropower in the Northwest, and it opens the door to more collaborative consensus-building going forward.
State Updates
State Policy Highlights for Q1
The Seattle City Council adopted a new Commercial Energy Code. The updated code requires higher energy efficiency standards, more solar energy use on-site, and a transition to efficient electric heating and water heating in new commercial and large multi-family buildings. At the state level, we provided feedback and support advancing building decarbonization, support utility regulatory reform, and expand support for utility affordability programs.
We helped draft and educate policymakers on the need for consistent foundational standards that facilitate an accessible, reliable, and standardized electric vehicle charging experience. To learn more about this bill and the benefits for Washingtonians, take a look at our blog post on accessible public charging.
In the Oregon legislature, we are advocating for policy proposals to advance clean electricity, intervenor funding, and differential rates at the PUC, appliance standards, and renewal of the public purpose charge.
In the first half of the Montana legislative session, we supported the Montana Renewable Energy Association (MREA) in their victory to increase the cap for commercial net metering, which passed the House. We helped draft and educate policymakers on the importance of stronger energy efficiency standards, the bill made its way out of committee, but later did not pass in the Senate. We worked with allies to stop policy proposals that would harm resource planning, wind resources, and smart meters, and bills that would prolong the operation of the Colstrip generating plant. The legislature has decided to expand the session by 90 days to mid-May.
State Regulatory and Utility Action
Rulemakings, at the Washington Utilities and Transportation Commission (UTC) and Department of Commerce, to further the implementation rules for the Clean Energy Transformation Act continued with extensive workshops and draft rules that needed analysis and comments. The Coalition was also very active in utility resource planning and energy efficiency advisory committees.
Our top priorities in Oregon have been supporting the implementation of Governor Brown's climate Executive Order 20-04, the Oregon DEQ Clean Fuels Program, working closely with Portland General Electric and PacifiCorp on their Integrated Resource Plans (IRP's), demand-side programs, distribution system planning, and transportation electrification plans. We have participated in and convened conversations at the PUC around expanding eligibility for energy efficiency, and accurately valuing low-income energy efficiency. There are also discussions around community solar, distribution system planning, and capacity values for resources. We cohosted educational webinars for community advocates on the basics of utility regulation and energy policy in Oregon and the region.
We have advocated to expand demand-side investments by NorthWestern Energy and support the agreement between NWE and the City of Missoula for clean electricity. In Idaho, our top priorities have been increasing Idaho Power's energy efficiency tariff rider and improve program offerings.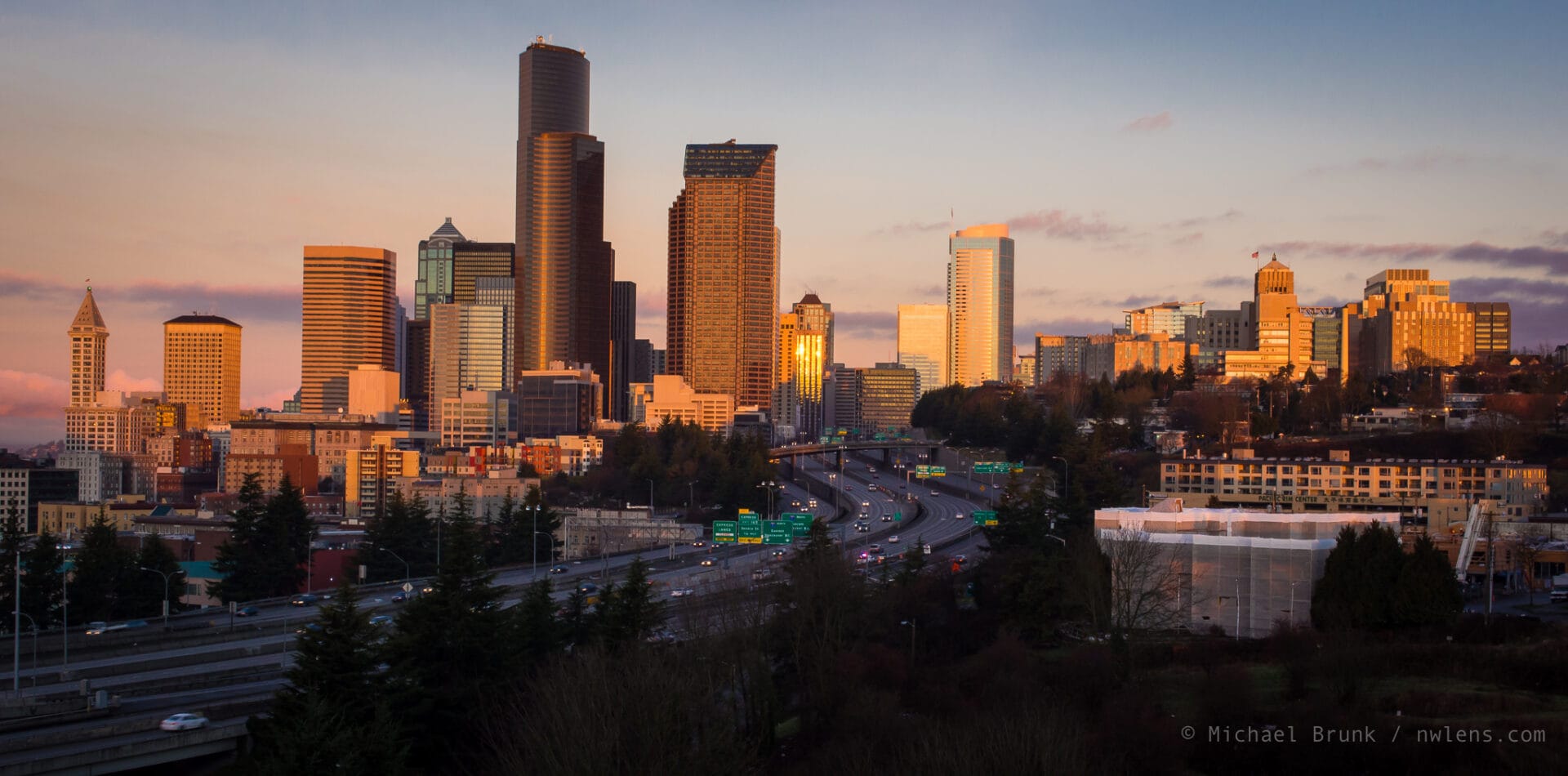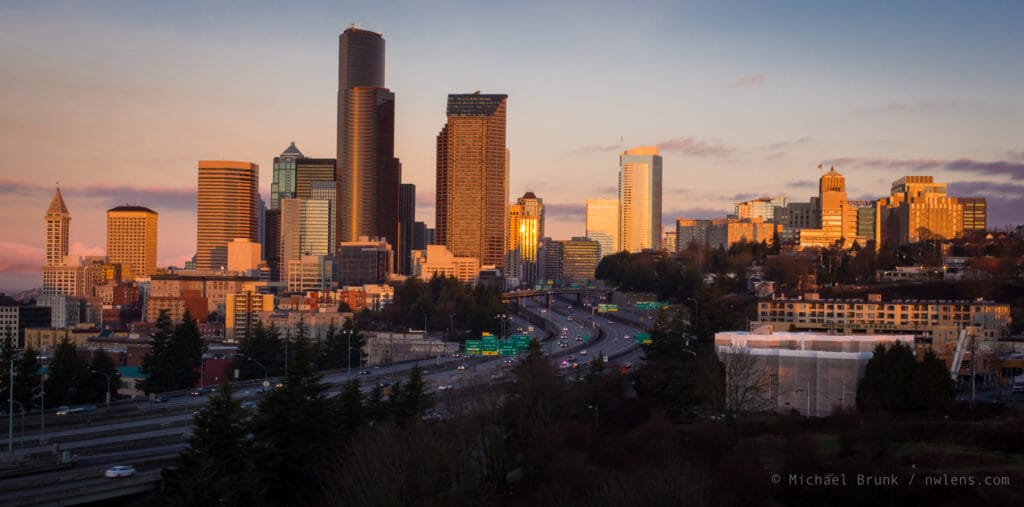 Events
The Clean & Affordable Energy Conference
Make sure to sign up for our virtual conference in June. This special conference will be divided up into two days and will have two panel discussions per day.
Day 1: June 2, 9am-12pm (PST)/ 10am-1pm(MT)
Day 2: June 10, 9am-12pm (PST)/ 10am-1pm (MT)
This year's conference will cover the most pressing issues in the Northwest's energy landscape. These include salmon recovery and potential changes to the federal hydro system, as well as expanding support for community participation in utility and regulatory processes. We will also discuss how to address regulatory barriers to decarbonizing utilities, and how stakeholders can engage in the NW Power Council's regional planning processes to support clean, affordable, and reliable service for all Northwest communities. Register today!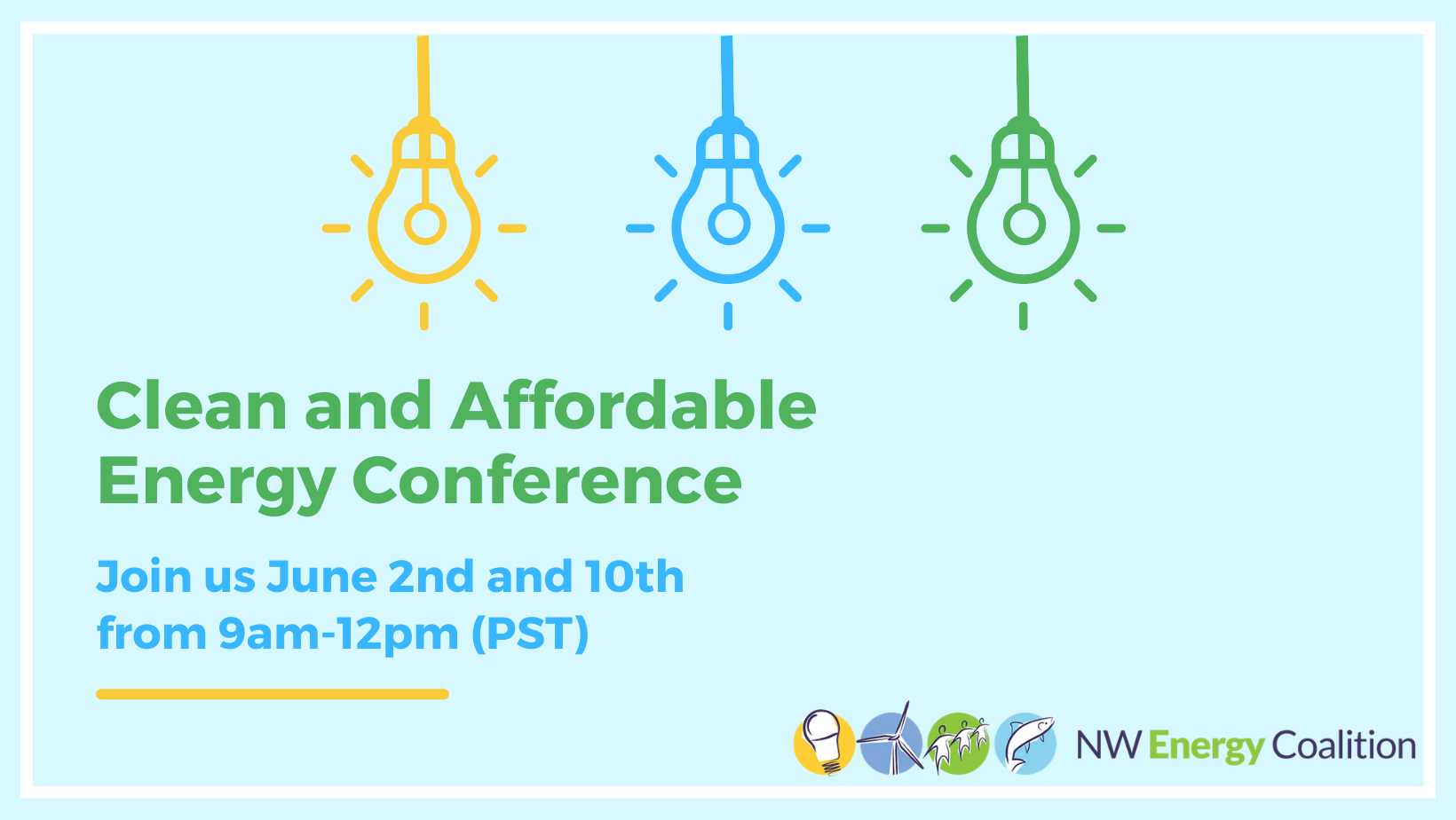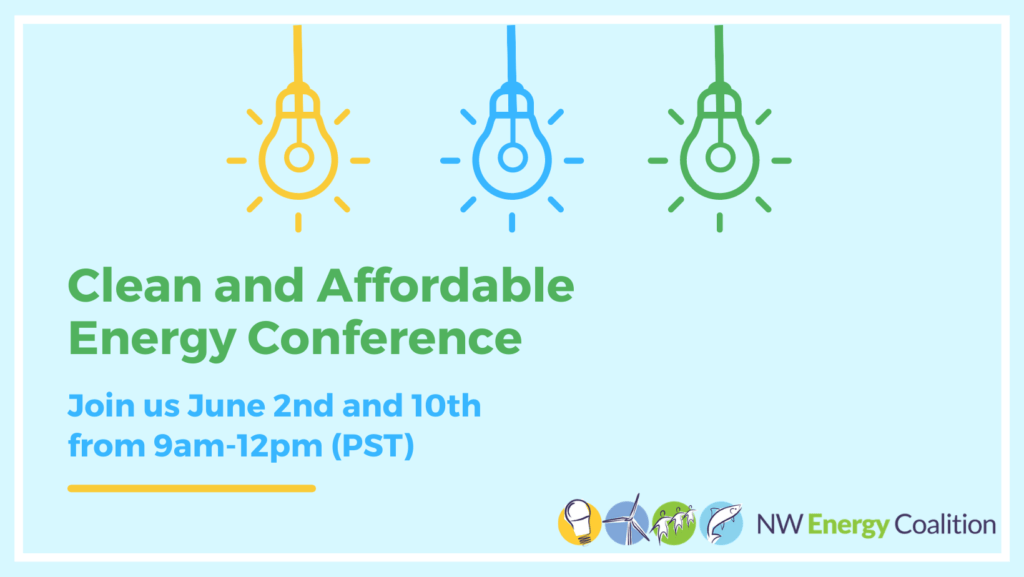 Outreach and Communication
Amidst the legislative session, we published an informational blog post on accessible public charging. We wrote letters to the editor and op-eds. We stayed in contact with the media and shared our views on current and upcoming policies. We also continue to send out monthly newsletters to community-based and environmental justice partners on topics and opportunities specifically relevant to their priorities.
In February, we hosted an energy efficiency financing for commercial buildings webinar. Then in March, we hosted a series of Lunch & Learn conversations for members of the Coalition focused on federal updates. We covered topics such as grid modernization, flexible load, salmon recovery, energy efficiency, affordability, and more. If you are a member and would like to see a recording of one of the sessions or would like us to host more events like this, let us know!
In the news
The Snake River Dams & NWEC
January 20, The Northwest Sportsman, Groups Sue Feds Over Latest Columbia-Snake Hydro Plan by Andy Walgamott

January 20, Local News 8, Conservation groups challenge Salmon recovery plan…again
March 8, The Spokesman, Dam power: Snake River dams are not big power producers, but play an important regional role by Eli Francovich

Seattle Commercial Energy Code & NWEC
January 13, Puget Sound Business Journal, Durkan proposes limiting fossil fuel use in some new buildings by Marc Stiles

February 8, Office of the Mayor, Mayor Durkan Signs Legislation Making Seattle's Building Energy Code One of Strongest on Climate in the Nation by Rachel Schulkin

March 11, Puget Sound Business Journal: Opinion: New code makes a difference for Seattle's buildings, but local action isn't enough