2022 Fall Conference Digest
Delivering Community Clean Energy
November 14, 2022
Session 1: Federal Funding: Inflation Reduction Act & Infrastructure Investment and Jobs Act
NW Energy Coalition (NWEC) hosted our annual Fall conference virtually across two half-day sessions in November. This year's conference centered on Delivering Community Clean Energy. The first day focused on the recent influx of funding for the clean energy transformation and the second day addressed community equity issues.
Each day, NWEC also provided results and updates from the 2022 mid-term elections, which took place on November 6, just before our conference.
We would like to thank our sponsors, without whom we would not be able to organize these learning events.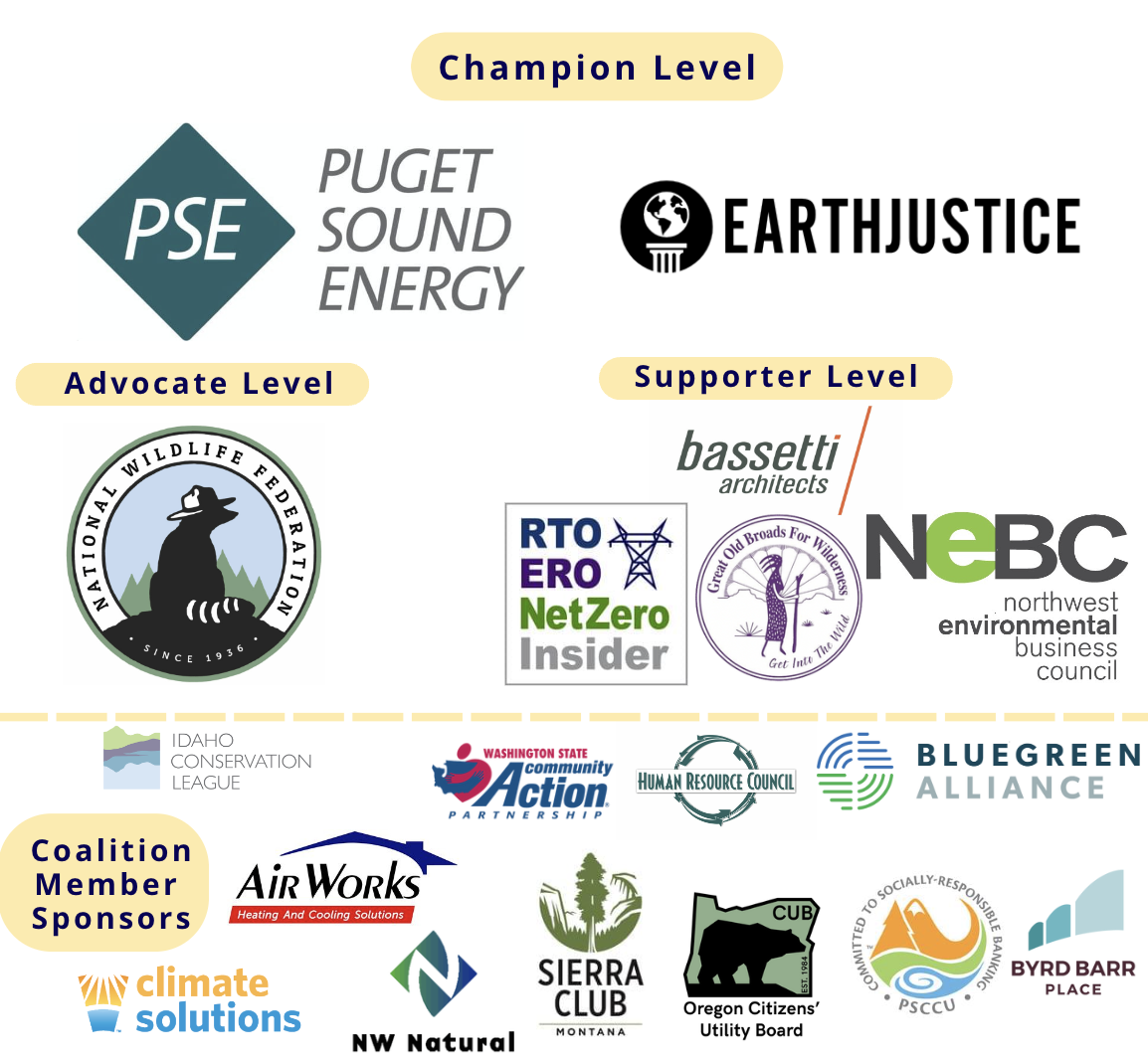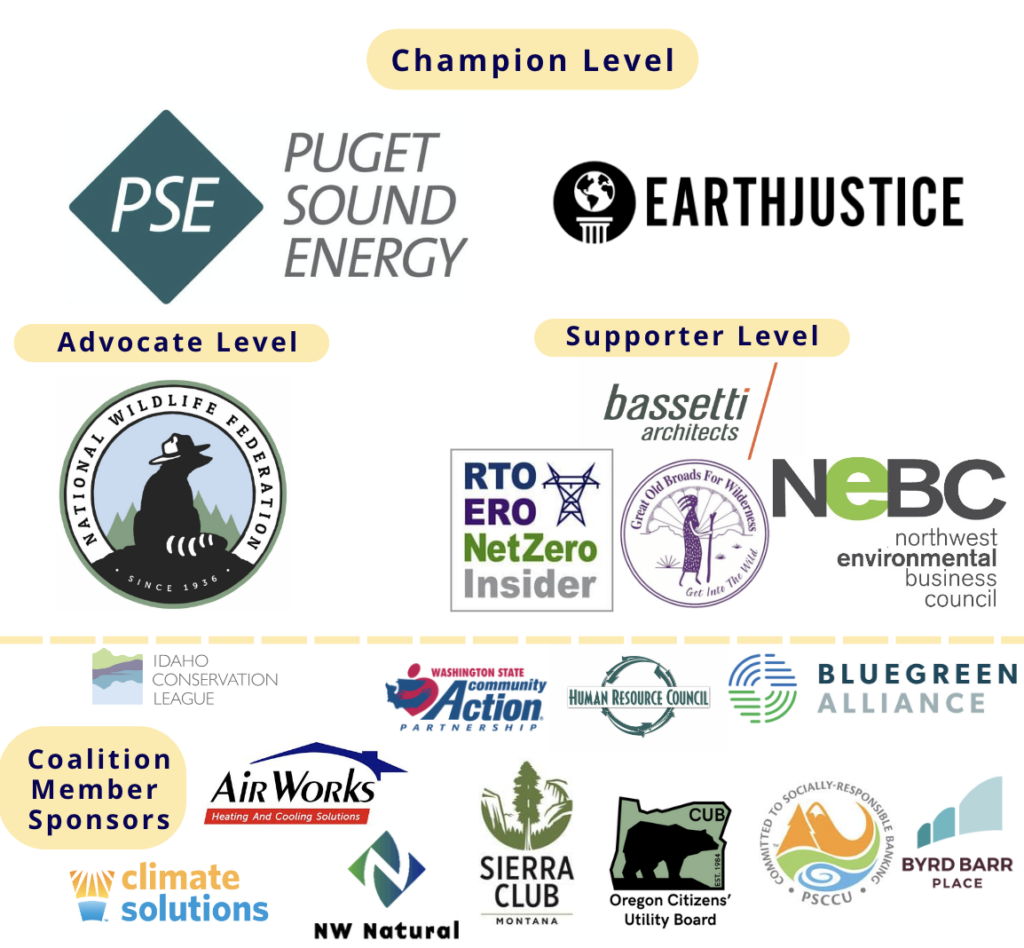 The first day of the conference kicked off with a welcome from NWEC Executive Director Nancy Hirsh. Nancy shared some context for the day's panels: the Northwest being well on its way towards decarbonizing and modernizing our energy systems to meet climate and clean energy goals; the passage of two of the most comprehensive federal bills that will inject unprecedented amounts of funding towards the deployment and development of clean energy technologies; and the commitment to equity both within the two federal bills and throughout the region.
Nancy then introduced Diego Rivas, Regulatory Counsel with NWEC, to give a quick overview of the election results in the Northwest, acknowledging that not all elections had been settled at the time.
Jaimes Valdez, the Organizational Development and Policy Manager for the City of Portland's Clean Energy Fund and Board Member of the NW Energy Coalition introduced himself as the moderator for the first panel of the conference, "Federal Funding: Inflation Reduction Act & Infrastructure Investment and Jobs Act."
Jaimes then introduced Sam Ricketts, Co-Founder of Evergreen Action and a Senior Fellow at the Center for American Progress. Sam addressed the conference from Washington, DC to speak about three bills passed by the 117th Congress that include historic climate investments to drive a clean energy transformation across the country:
The Inflation Reduction Act (IRA)
The Infrastructure Investment and Jobs Act (IIJA, also known as the Bipartisan Infrastructure Law, or BIL)
The Creating Helpful Incentives to Produce Semiconductors (CHIPS) and Science Act
These three bills combined could mean as much as $500 billion in clean energy and climate investments over the coming decade. Funding from these three bills is projected under multiple expert analyses to help the US hit a 40% reduction in climate pollution below 2005 levels by 2030. While all three bills are important investments at the federal level, the IRA provides the bulk of the funding at $380 billion. The IIJA and CHIPS and Science Act are slightly less transformative since future Congresses will have to appropriate funds to continue these programs.
Sam explained that the Inflation Reduction Act (IRA), the bulk of the clean energy and climate funding, is an investment-centered climate policy, not driven by regulation or carbon pricing. The IRA focuses on "carrots" – investments to make clean energy cheap, abundant, affordable for American businesses and consumers – rather than "sticks." At a high level, there are several key elements of the IRA that are worth noting:
New Department of Energy (DOE), Department of Agriculture (USDA), and Environmental Protection Agency (EPA) financing programs
Major investments in environmental justice
Significant funding for clean and low carbon manufacturing
A methane pollution reduction fee for funding on the order of $30 billion for climate smart agriculture and conservation
Critical funding for direct investment in state and community level clean energy leadership.
The Infrastructure Investment and Jobs Act (IIJA or BIL) provides:
$60 billion in clean energy technology development
$65 billion for environmental justice priorities, such as Superfund cleanup and lead pipe replacement
New funding for transportation decarbonization, such as electric school buses, electric charging infrastructure, and public transit
The CHIPS and Science Act provides:
$67 billion towards zero-carbon industries
Significant investment in federal clean energy research and development
The creation of 10 regional technology innovation hubs
The key climate investments from these three bills combined will transform five economic sectors:
Electricity
Transportation
Buildings
Industry
Agriculture, forests, and lands
The power sector will be well on its way to meeting President Biden's commitment to a 100% clean electricity by 2035 due to these three bills. About $150 billion worth of spending from the IRA is through the long-term extension of federal investment tax credits (ITC) and production tax credits (PTC) – both of which have long been a primary driver of decarbonization and will continue to be game-changers. ITC and PTC extensions are coupled with DOE loan guarantee program funding, Rural Utility Service financing, an EPA Greenhouse Gas Reduction Fund, and transmission and smart grid funding in the IIJA.
The transportation sector receives about $28 billion from the IRA. Investments include electric vehicle tax credits that now cover used vehicles as well as new vehicles, clean trucks investments, and federal fleet procurement. Additionally, there are funds in IIJA and IRA for electric buses and electric vehicle charging infrastructure and significant funding in the IIJA for service transportation, such as public transit and low-carbon modal transportation. However, a lot of the funding in IIJA has to be reauthorized in the future and is subject to state discretion as to how to spend that money. Sam suggested that advocates engage with their state's Department of Transportation since they will be the agency that decides how to spend new funding.
The building sector receives about $28 billion dollars in investments from the IRA and another $5 billion from the IIJA. There are new clean energy tax incentives for consumers to purchase electric appliances, weatherize their homes, and cut their own energy costs. There are also investments in green and affordable housing and nearly $4 billion in low-income building weatherization.
The three bills even tackle the hardest to decarbonize sector of the economy, industry, with about $70 billion of funding. Clean manufacturing tax incentives will help to build the next generation of clean energy technologies here in the US. There are industrial decarbonization incentives for facilities like carbon capture and sequestration (CCS) and clean hydrogen, as well as a $6 billion DOE program for advanced facilities decarbonization grants. There's a pollution fee on methane from oil and gas producers, and money in the IIJA for critical minerals development in the US.
Agriculture, forestry and lands also get a significant investment in these bills of about $30 billion. USDA conservation programs receive $20 billion. Forest health programs and the National Oceanic and Atmospheric Administration's (NOAA's) ocean conservation programs will receive a couple of billion dollars each. There is also money for western water resources and in IIJA, funding for critical Pacific Northwest programs like the recovery of Puget Sound and salmon.
Regarding environmental justice provisions, the continued leasing of land for oil and gas production in the Gulf of Mexico and Alaska is a concerning provision that passed. On the other hand, there was also $45-60 billion of investments in important environmental justice priorities, such as the Greenhouse Gas Reduction Fund and Environmental and Climate Justice Block Grants. Additionally, labor standards in the IRA that were borrowed from Washington's Clean Energy Transformation Act (CETA) tie the clean energy tax incentives to the payment of prevailing wages and use of apprenticeship programs.
Sam closed out his opening statements by reflecting on the new climate policy paradigm that allowed the US to pass the most comprehensive and wide-ranging clean energy policies in our history. Communities have used a "climate, jobs, and justice" rallying cry for the last two decades to build towards this moment. Due to community organizing and advocacy, these three bills contain game-changing climate and clean energy policy, while also providing funding for environmental justice priorities for disadvantaged communities and good union jobs. Decades of advocacy allowed these three bills to pass, which will drive the US and the Pacific Northwest to a more equitable and decarbonized future.
Jaimes then introduced Olivia Wein, Staff Attorney at the National Consumer Law Center. Olivia's opening statement focused on consumer provisions within the IRA and IIJA – programs that will help low- and moderate-income households – and the need for consumer protections as we implement these laws.
Olivia was especially excited that the IIJA provides an additional $3.5 billion for DOE's Weatherization Assistance Program (WAP). This funding is in addition to regular state weatherization programs.
In early November, the Department of Human and Health Services released $4.5 billion to States for the Low-Income Home Energy Assistance Program (LIHEAP), which is an important program that helps low-income households pay their energy bills. Of the $4.5 billion for LIHEAP, $100 million came from the IIJA, $1 billion from the Fiscal Year 2023 Continuing Resolution, and an estimated $3.4 billion from the regular Fiscal Year 2023 Appropriation.
On the consumer side of benefits from these bills is the High Efficiency Electric Homes Rebate Act (HEEHRA), which was included in the IRA and will provide $4.5 billion worth of clean energy rebates for low and moderate-income households through DOE and State and Tribal Energy Offices. Electrification projects that qualify for the rebate include electric heat pumps for water heating or space heating and cooling, electric cooktops, improved insulation or ventilation, and more. However, Olivia raised the concern that low-income consumers often do not have the upfront cash to benefit from a rebate program. There is a point-of-sale income verification provision within the bill, which States will need to create a plan for when applying for the funds. DOE is hosting listening sessions through January and Olivia encouraged advocates to attend and share thoughts as to how to implement this program.
A similar rebate program provides home energy performance-based, whole house rebates (HOME rebates), which cannot be combined with HEEHRA. This program received $4.3 billion from the IRA to cover energy efficiency and electrification measures. Contractors can receive extra funding if they are targeting homes in disadvantaged communities.
The National Consumer Law Center is concerned that there will be an increase in home improvement scams in the name of these programs. It is important for those who are designing these programs to talk with legal services attorneys who specialize in home improvement scams and auto fraud to ensure appropriate consumer protections.
Olivia then reviewed IRA clean energy tax credits for individuals, such as:
Energy Efficient Home Improvement Credit
Residential Clean Energy Credit
Electric Vehicle (EV) Credit for new cars
EV Credit for used cars
EV Charging ("Alternative Fuel Refueling Property Credit")
However, Olivia noted that most EVs are leased. To encourage more lower income workers to adopt EVs, it matters whether the lessor or the lessee receives the tax credit. Currently, the EV credit program has the EV credit going to the lessor. Refining that standard to make sure that lesees can receive the EV credit is of concern to low-income advocates.
Olivia wrapped up by talking about the Affordable Connectivity Program (ACP), which will help low-income households gain access to EV charging. Pre-pandemic, one in three unbanked households did not have a smartphone and two out of three unbanked households did not have home broadband. Due to the IIJA, there is now $14.2 billion for ACP, a low-income broadband affordability program which will provide funds to low-income EV users to purchase enough smartphone data in order to charge their EV. Interested households can apply to the ACP here.
Following Olivia, Sonrisa Lucero, Special Advisor for Stakeholder Engagement with the US Department of Energy (DOE), talked about the implementation pathway for some of DOE's new programs. Sonrisa works in the Office of Economic Impact and Diversity, which is charged with implementing the Justice 40 initiative.
Across the IRA and IIJA, there is roughly $100 billion dollars allocated directly to the DOE for various clean energy purposes:
$14 billion dollars for loans
$9 billion for buildings
$6 billion for manufacturing
$3 billion for the grid
$2 billion for national labs and
$1 billion for the Defense Production Act, which helps manufacture clean energy technologies such as heat pumps and tribal energy programs.
Sonrisa highlighted the clean electricity provisions in each of the bills:
IIJA:
Transmission Facilitation Program – $2.5 billion
Grid Resilience Formula Grant Program – $2.5 billion
Grid Resilience & Innovation Partnership Program – $10.5 billion
Modeling & Assessing Energy Infrastructure Risk – $50 million
Civil Nuclear Credit Program – $6 billion
Hydroelectric Production Incentive Program – $125 million
Hydroelectric Efficiency Improvement Incentives Program – $75 million
Maintaining and Enhancing Hydroelectric Incentives – $553 million
IRA:
PTC and ITC clean electricity tax credits (covered above)
Carbon capture, storage, and utilization credits extended and expanded
USDA Rural Utility Service program to provide financial assistance for rural co-ops to transition to clean electricity – $9.7 billion
Direct loans and finance for transmission facilities – $2 billion
Direct grants for citing and planning and for interstate regional and offshore transmission lines – $770 million
Offshore wind electricity transmission planning, modelling, and analysis – $100 million
Sonrisa highlighted that, importantly, there are funds for workforce development in the IRA that are projected to support 1 million jobs annually, with 75% of those jobs not requiring a four-year degree. There are prevailing wage standards in the IRA that will ensure the energy sector provides good paying careers. Finally, apprenticeship opportunities will create new employment opportunities.
The IRA has provided a historic investment of $40 billion in in energy justice and environmental justice that will allow stakeholders to realize the full advantages of the clean energy transition:
EPA's Greenhouse Gas Reduction Fund – $27 billion
EPA's Climate Pollution Reduction Funds – $5 billion
EPA's Environmental and Climate Justice Block Grants – $3 billion
A new USDA loan program, Rural Energy for America
While many of these programs will not be implemented through the DOE, the DOE does have 144 programs covered by the Justice40 initiative and is working to support disadvantaged communities through those programs.
Jaimes then led the Q&A session, beginning by asking the panelists what are they most excited about in terms of a program for equity.
Sam highlighted the Greenhouse Gas Reduction Fund, a new $27 billion program that includes two different parts:
A $7 million zero-emission technologies program that is about state, local, tribal and nonprofit programs targeting clean energy development in disadvantaged communities, providing community solar, low-income solar, etc.
The second part is a $20 billion clean energy accelerator, creating green banks around the country financed by nonprofit institutions that provide funding for clean technology deployment in disadvantaged communities
Olivia said that she was most excited about the model of the weatherization program and the additional $3.5 billion in funding. She wants to ensure these investments and programs are targeted to households with limited incomes. NCLC will be focused on consumer protections and designing programs to avoid predatory actors.
Jaimes then asked panelists how we can best collaborate to implement these opportunities and build momentum towards this affordable, equitable, clean energy future.
Olivia asked that anybody who is setting a table for a conversation to engage with DOE, Internal Revenue Service, Treasury, EPA, or Housing and Urban Development, since these agencies are taking feedback on how to implement programs. Tables should include local community action agencies, the weatherization community, the legal services community, and those with expertise in auto and home improvement fraud.
Sam asked that we all ensure that people know about these investments and incentives so that consumers, utilities, homeowners, and nonprofits can take advantage of them. People can't take advantage of these programs if they don't know about them. Sam also encouraged attendees to engage with state and local lawmakers. Every state should be moving faster to clean up the power sector and state and local lawmakers have the power to accelerate the clean energy transition.
Sonrisa asked attendees to create relationships with and help elevate and coach energy justice organizations within your communities to be a part of these processes. These processes are not easy to understand or navigate, and justice organizations are an important voice that should be heard.