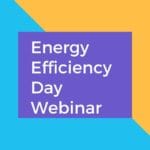 Webinar: How can energy efficiency programs reach vulnerable populations during COVID-19?
Presented: October 7, 11:30 – 12:30 PST
Energy efficiency programs play a significant role in creating healthier homes and lowering energy bills for participants. However, many vulnerable populations are not benefiting from energy efficiency because the programs have not reached their communities. This panel will explore how to increase access to the benefits of energy efficiency for low-income residents and highly impacted communities, with a focus on innovative strategies that can be used during COVID-19.
Moderator: Shani Taha, UCONS
Speakers:
Peter Kernan, Community Energy Project
Mohit Chhabra, Natural Resources Defense Council
To view the recording of the webinar, click below:
Here are other resources that were shared during the webinar: