Sam Garst receives Coalition's highest award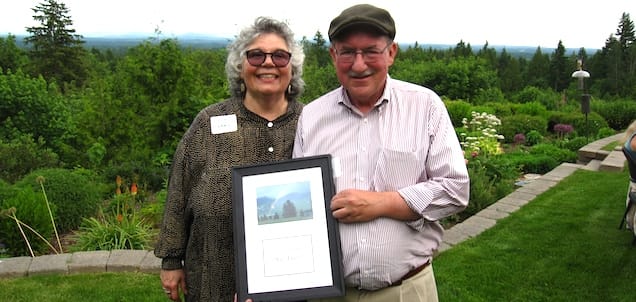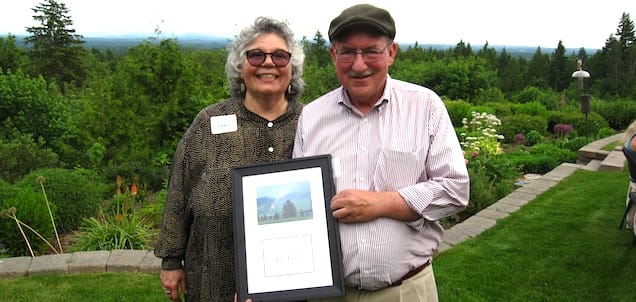 Coalition director Sara Patton with Headwaters Award winner Sam Garst
Thank you to everyone who celebrated in Olympia with the Coalition on Friday evening. The NW Energy Coalition staff and board members were so glad to have the opportunity to honor Sam Garst with the prestigious Headwaters Award for his work as the top signature gatherer for Initiative 937.  Thank you, Sam, for leading the way for clean and affordable energy.
It was a pleasure to spend time with Sam and Christine Garst in their beautiful, carbon-neutral home for the event. We extend many thanks to the couple for generously hosting a very enjoyable evening for key supporters of the Coalition in the Olympia area to come together to celebrate Sam's achievements and the work of the Coalition for clean and affordable energy. Everyone who attended enjoyed the amazing view both of Mount Rainier and the tour of the building, which is covered by 54 solar panels and many other inspiring attributes including a solar powered waterfall, kitchen flooring made from recycled tires, and passive solar heating and cooling design to name just a few.
The event was a demonstration of the power that we each have to shape the future of energy in our region.  Thank you to all who chose to support the work of the Coalition at this event. As Sam mentioned in his acceptance speech for the award we have made great progress for clean and affordable energy with Initiative 937, but there is much still to be done.
We appreciate the support of all of the members of the Coalition who are helping to move clean and affordable energy forward. Thank you and we look forward to working with you more in the days and months ahead.