Northwest electricity consumers enjoying higher and higher energy savings
Region exceeds annual target again in 2013,
on-course to beat 6th Power Plan's 5-year goal
Northwest utilities and their customers continue to beat their regional energy efficiency targets and remain on-course to exceed the five-year savings goal established by the 6th Northwest Power and Conservation Plan.
In 2013 – the most recent year for which final figures are available – the region achieved 268 average megawatts of energy efficiency. According to the region's official power planning agency, the Northwest Power and Conservation Council, that's enough negawatts (energy savings) to satisfy the electricity needs of more than 180,000 Northwest homes.
Accomplishments have Exceeded Targets Every Year Since 2005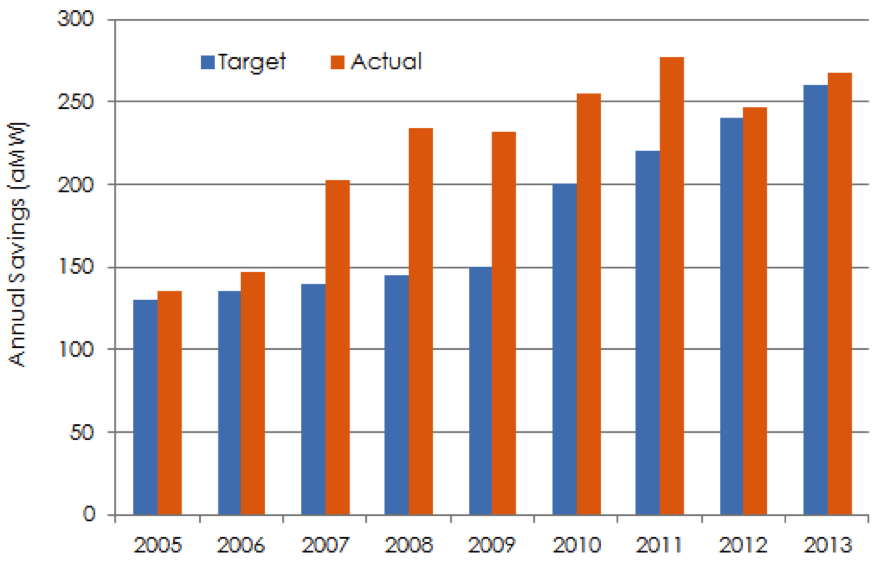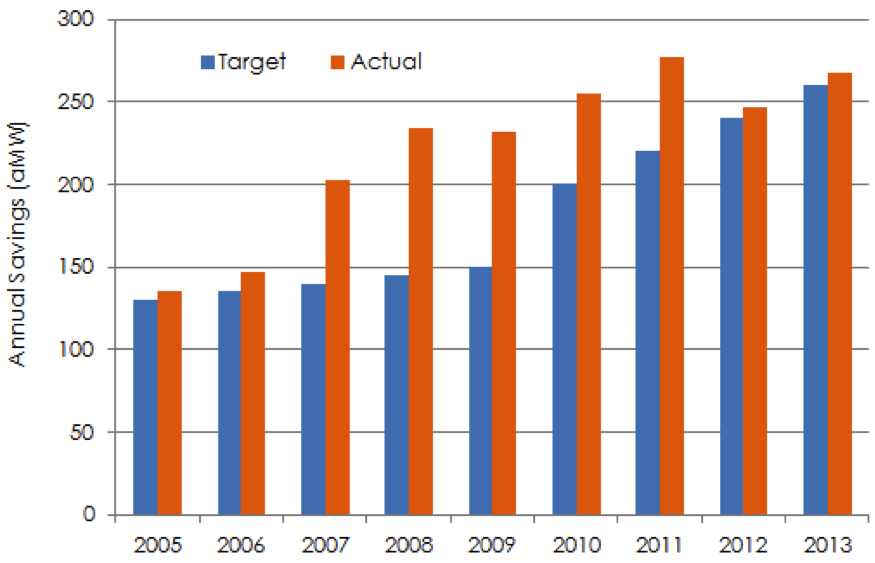 Northwest Power and Conservation Council, Sept. 30, 2014
The one-year total beats the Council goal by 8 aMW, making 2013 the ninth straight year in which accomplishments have exceeded regional targets. Since 1980, the Northwest has amassed 5,600 aMW of energy efficiency, enough to power western Montana and all of Oregon.
Along the way, energy efficiency became the region's second-largest power source, trailing only hydropower. And we're getting it for 1.7 cents per kilowatt-hour, or about a fifth of what supposedly cheap new power from a new natural gas-fired plant would cost.
In fact, the Council says Northwest consumers are collectively saving $3.5 billion per year on their electric bills thanks to the energy efficiency accomplishments in the 34 years since the Northwest Power Act made conservation the region's No. 1 priority for meeting growing power needs. Producing negawatts instead of megawatts over that time reduced climate-disrupting carbon emissions by nearly 22 million tons in 2013.
The current power plan calls for meeting 85% of new power needs – about 1,200 aMW – with energy efficiency during the five-year "action plan" period that runs through the end of this year. Northwest utilities are projecting total 2014 savings well in excess of the 153 aMW needed to meet the whole five-year target.
Work is underway on the Council's next power and conservation plan. Supporters of a clean and affordable energy future can celebrate our current accomplishments and work to ensure that the 7th Northwest Power and Conservation Plan sets an even higher goal for our cleanest, quickest, cheapest power resource, energy efficiency.
From the source:
*    Northwest Power and Conservation Council, "Energy Efficiency Improvements in 2013 Add to Impressive Regional Savings," Oct. 7, 2014. http://www.nwcouncil.org/news/blog/energy-efficiency-saved-ratepayers-35-billion-in-2013/
*    PowerPoint from Charlie Grist, manager of conservation resources, "Progress Toward the 6th Plan's Regional Conservation Goals," Sept. 30, 2014. http://www.nwcouncil.org/media/7148388/2.pdf