How did Clean and Affordable Energy do this session in Washington State?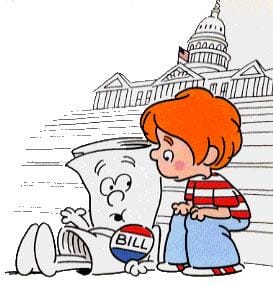 The 2010 Washington state legislative session has finally come to a close and it's time to take inventory on how clean and affordable energy policies fared in Olympia.
It was a tough year for proactive measures, but we successfully defended attempts to scale back the tax incentive for renewable energy and I-937, the Citizen's Clean Energy Initiative, went another year without any amendments.
What happened with the Coalition's other priorities?
Energy efficient building codes
In November, the State Building Code Council adopted changes to the State Energy Code that – if implemented as planned in July 2010- will make Washington's new homes, businesses, schools and all other buildings about 15% more energy efficient than required by the current energy code. We were successful in stopping any attempts to block the adoption of these standards, so they we will start to benefit from these standards in July 2010!
Jobs in Schools and Buildings (Rep. Dunshee's JOBS Act) HB 2561:
Passed! This legislative referendum will be on the ballot this fall.  If passed by a majority of voters, it would allow the state to issue general obligation bonds in the amount of $505 million to reduce energy costs and create jobs by investing in capital improvements to public school, colleges and universities. Also, the temporary sales tax on bottled water would be made permanent to pay the debt service costs for the bonds.
Recycling of mercury in efficient lighting SB 5543:
Passed! This legislation will create a statewide product stewardship program for mercury containing bulbs and tubes from residential sources. It will provide residents with convenient, free-of-charge recycling options for these lights. It is an important and timely action to protect our communities from toxic mercury while also encouraging the use of energy efficient lighting.
Energy efficiency financing SB 6656/HB 2853:
The bills to expand energy efficiency financing did not pass the legislature this year.   We had a strong Coalition of environment, labor, business, and cities working to pass the bill but time proved to short.  We will continue to work on this essential policy to provide consumers and business access to up front, low-cost financing for energy efficiency.
Energy efficient TVs HB 2416:
Despite an all out effort to pass these standards with support from utilities, Department of Commerce, the Power Council, and the environmental community, these budget neutral standards did not pass. The Consumer Electronics Association, Association of WA Businesses, and WA Retailers Association lobbied hard to keep consumers from realizing the energy and cost savings of efficient TVs.
Other energy bills
Sales tax exemptions for coal –  SB 6573
The Senate attempted to end the sales and use tax exemption for the TransAlta coal plant in Centralia which would save $10 million of the State's valuable resources for the remainder of the biennium.  The House did not concur with repealing this exemption and it ultimately did not pass.
Incentives for community solar –  SB 6658
Passed! This bill caps the size of eligibility of community solar projects -only community solar projects capable of generating up to 75 kilowatts (kW) of electricity may receive cost recovery incentive payments.  It also allows electric cooperatives and mutual corporations to own community solar projects as well as limited liability corporations (LLCs).
Weatherization expansion- SB 6468
Passed! This bill changes the Low-Income Weatherization Assistance Account to the Low- Income Weatherization and Structural Rehabilitation Assistance Account. Commerce must prioritize weatherization and structural rehabilitation projects to facilitate the allocation of funding from federal energy efficiency programs to projects that maximize energy efficiency and extend the usable life of a home through rehabilitation and repair activities and by installing energy efficiency measures.  This is an important change for the weatherization program that gives community action agencies more flexibility in meeting the needs of their low-income customers.
Removes taxation of Bonneville Power Administration's energy efficiency programs – SB 6614
Passed! This bill clarifies that credits or funds provided by the BPA for the purposes of implementing energy conservation programs or demand-side management programs are exempt from the business and occupation tax.  The exemption from the business and occupation tax expires June 30, 2015.
Energy facility site evaluation council – SHB 2527
Passed! This bill expands the site certification authority of the Energy Facility Site Evaluation Council (EFSEC) to include any nuclear power facilities that primarily produce and sell electricity and biofuel refineries capable of processing more than 25,000 barrels per day of refined product.  The bill had a few small other provisions but these are the main elements.