WA House passes 100% Clean Electricity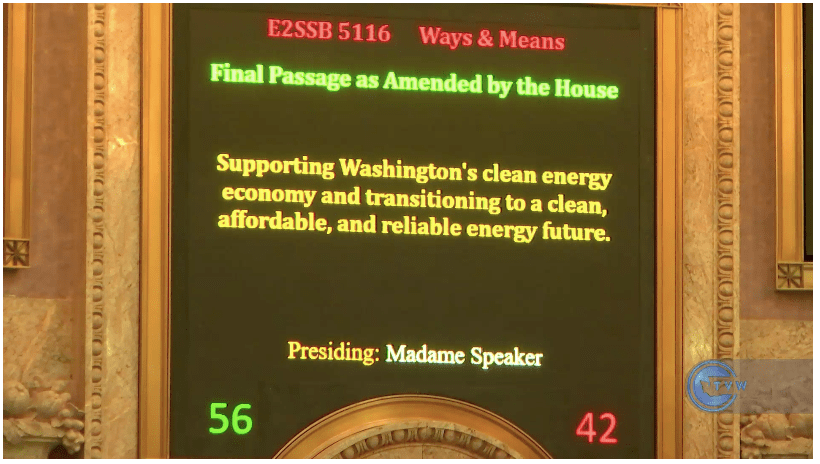 Today, SB 5116, the 100% Clean Electricity bill, passed the Washington House of Representatives by a vote of 56-42.The bill will now go back to the Senate, which has already passed a slightly different version, for concurrence.
When finally enacted, SB 5116 will put Washington's electric system on a path to become free of carbon emissions by 2045. NW Energy Coalition Policy Director Wendy Gerlitz said, "SB 5116's passage makes Washington a clean energy leader. Using a toolkit of renewable energy, demand-side solutions, and market approaches, we'll have an orderly and affordable transition, especially for low-income and impacted communities."
Thanks to all of you who contacted legislators, wrote op-eds and letters to the editor, and lobbied friends and relatives on behalf of clean electricity for Washington. Thanks also to the diverse group of environmental and community organizations, businesses, faith communities helped develop and pass the bill.
Finally, thanks to Governor Jay Inslee and the many legislators and staff members who worked so hard to craft a sound and effective policy that puts Washington at the forefront in the effort to combat climate change.
Today your efforts were rewarded. But, stay tuned because action is still to come on other important parts of the climate package including the Clean Buildings bill (HB 1257), the Appliance Efficiency Standards bill (HB 1444), and others.