NW Electric Utility 101: Electricity Generation and Consumption
The NW Energy Coalition prides itself on the technical and analytical knowledge we have on energy systems and utilities in the Northwest. We also recognize that in order for our energy system to be more equitable, we need to engage a broader audience. This NW Electric Utility 101 blog post is part of a collection of energy 101 materials NWEC has on our website, meant to inform the broader public on the energy systems in the Northwest as we continue to build a cleaner, more equitable, and affordable energy system. A Gas Utility 101 blog post will be forthcoming.  
Background Information on Electric Utility Types
The Northwest has different kinds of utilities. Some utilities deliver electricity, some deliver fossil gas, and others deliver both. This post will focus on utilities that deliver electricity.
There are investor-owned utilities (IOUs) and there are consumer-owned utilities (COUs). Investor-owned utilities are private for-profit companies, governed by a board of directors, that deliver electricity to customers and can earn a profit. IOUs are regulated by the state utility commissions.
Consumer-owned utilities are non-profit entities operated by a public body (municipal utilities and public utility districts) or directly by their customers (cooperatives or Tribes).
| | | | | | |
| --- | --- | --- | --- | --- | --- |
| State | Investor-owned Utilities (IOUs) | Cooperatives | Municipal Utilities | Tribal Utilities | Public Utility Districts (PUDs) |
| Washington | 3 | 17 | 18 | 1 | 28 |
| Oregon | 3 | 20 | 12 | 1 | 6 |
| Montana | 2 | 25 | 0 | 2 | 0 |
| Idaho | 3 | 15 | 11 | 0 | 0 |
* This table focuses on utilities that deliver electricity but there are other utilities in each of these states that deliver fossil gas, and some of the consumer-owned utilities also provide telecommunications, water and sewer services. There are also very small utilities that are called "Mutuals" in WA that are similar to cooperatives.
Power Generation Providing Electricity by State
There are dozens of policies and regulations that impact electric utilities. Below, we provide a snap-shot of the generating resources in each state. Future 101 blog posts will detail some of the overarching state policies that are driving the clean energy transformation in each state.
Washington
Washington State has an Electric Fuel Mix Disclosure requirement, which requires every electric utility provider in Washington to disclose information about the mix of fuels used to generate electricity. This allows customers to know what generates the electricity they consume.
For 2020, the majority of electricity consumed in Washington State was generated by hydropower, which accounted for more than half of the overall consumption (54.77%). Gas and coal accounted for 12.94 % and 10.18% of electricity consumed, respectively. Electricity from wind (5.36%) was about the same percentage as the electricity from nuclear plants (4.26%). In contrast, solar energy accounted for only 0.3%. The state's energy disclosure law allows electric utility providers to use the "unspecified" category when the energy source cannot be identified, thus 11.3% of consumed electricity remained unspecified.
The chart below from the Washington State Department of Commerce illustrates the electric utilities aggregate 2020 fuel mix.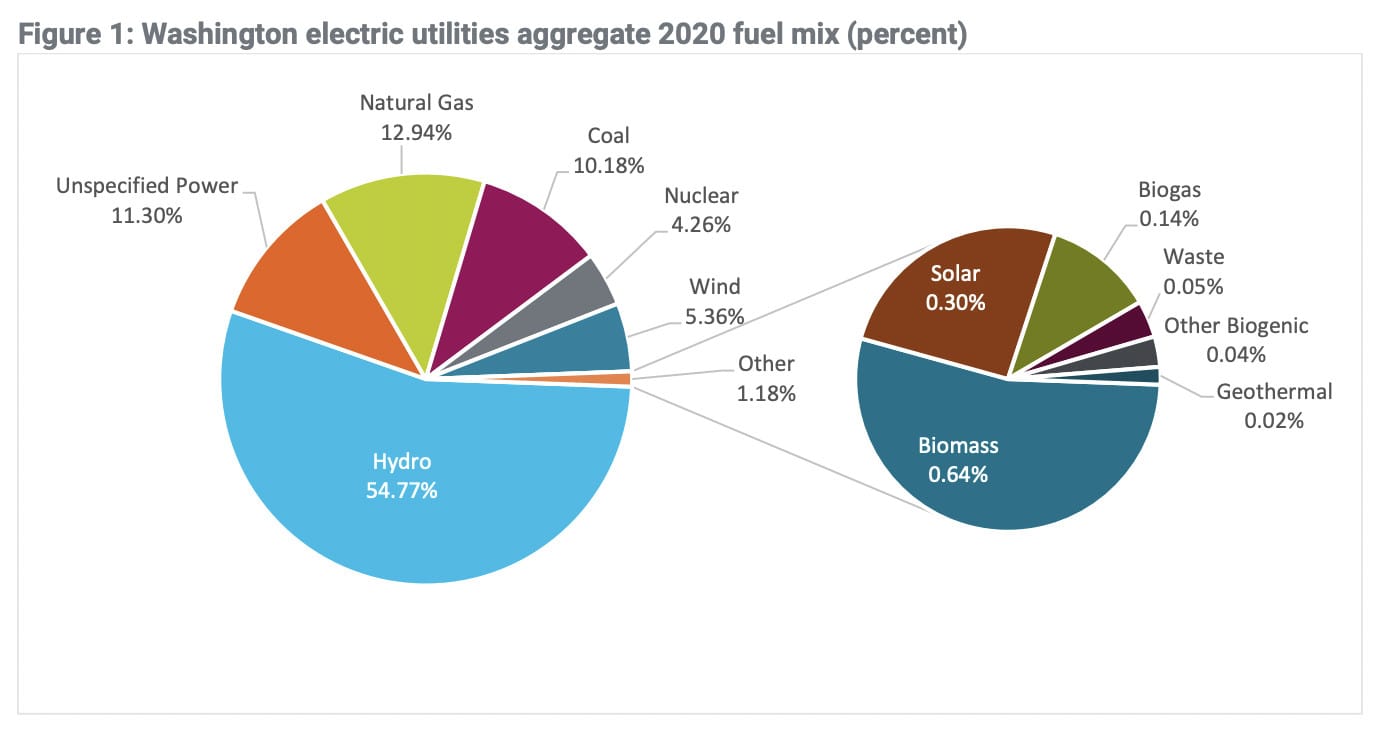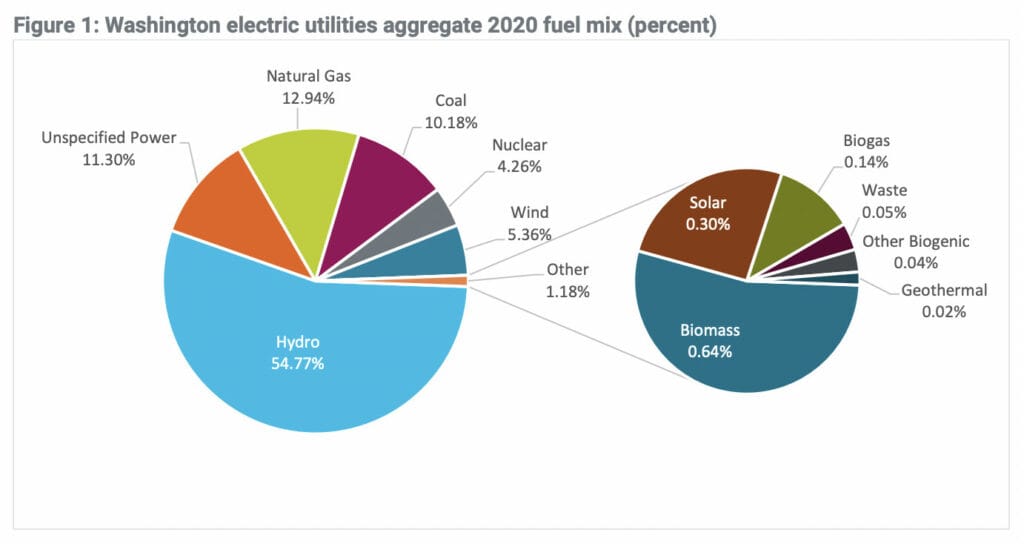 Oregon
Similar to Washington State, Oregon utilities must disclose information about the energy sources used for electricity generation. The energy disclosure information is used by the Oregon Department of Energy to better understand and manage the environmental impact of energy generation.
The Oregon electricity resource mix for 2019 included 37.2% of consumed electricity from hydropower. Coal (27.5%) and natural gas (24.8%) together accounted for over half the consumed electricity. The electricity generated from wind (4.8%) surpassed the electricity generated from nuclear (3.5%), and solar resources provided 0.75% of the consumed electricity.
The table below shows the Oregon electricity resource mix for 2019.
Idaho
Idaho has not started a fuel mix disclosure program yet.
The energy consumption data available for Idaho in 2021 demonstrates that the largest share of electricity generation belonged to hydroelectric dams (48%). Fossil gas was the second largest source of electricity generation at 29%, and renewables were 23%, as seen in the figure below.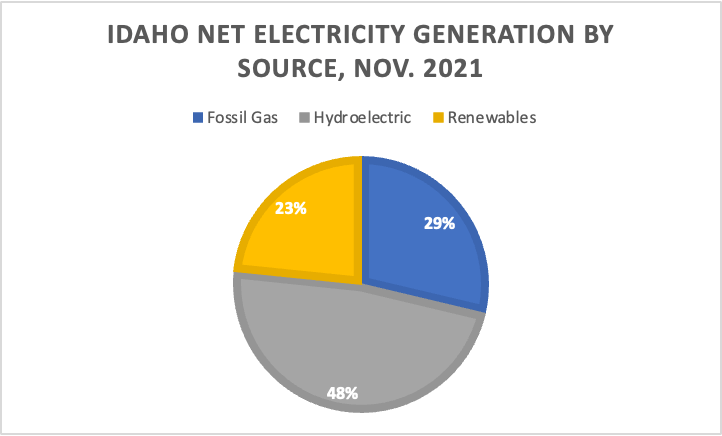 Source: U.S. Energy Information Administration
Montana
In 2021, the state of Montana consumed 48% of its electricity from coal plants followed by 35% from hydropower dams. Renewable resources provided 16% of the state's electricity while fossil gas provided 1%, as seen in the below figure.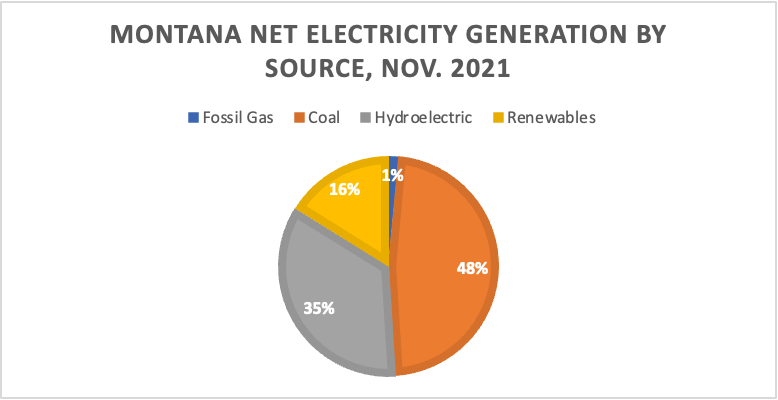 Source: U.S. Energy Information Administration
Electric Utilities are Regulated by Local or State Bodies
Energy utilities are complex and one of the most heavily regulated industries in the country because they provide monopoly service to retail customers. In the Northwest, all investor-owned utilities are regulated by public state commissions. Each state commission varies slightly:
The Washington Utilities and Transportation Commission (WUTC) is composed of three commissioners appointed by the Governor for four-year terms. The WUTC regulates private electric, telecommunications, gas, and transportation companies.
The Oregon Public Utility Commission (OPUC) is composed of three commissioners appointed by the Governor for four-year terms. The OPUC regulates private electric, gas, telecommunications, and water companies.
The Idaho Public Utility Commission (IPUC) is composed of three commissioners appointed by the Governor for staggered six-year terms. The IPUC regulates private electric, telecommunications, gas, and water companies.
The Montana Public Service Commission (MPSC) is composed of five elected commissioners that serve a distinct district in Montana. They serve staggered four-year terms. The MPSC regulates private electric, gas, telephone, sewer, and water companies.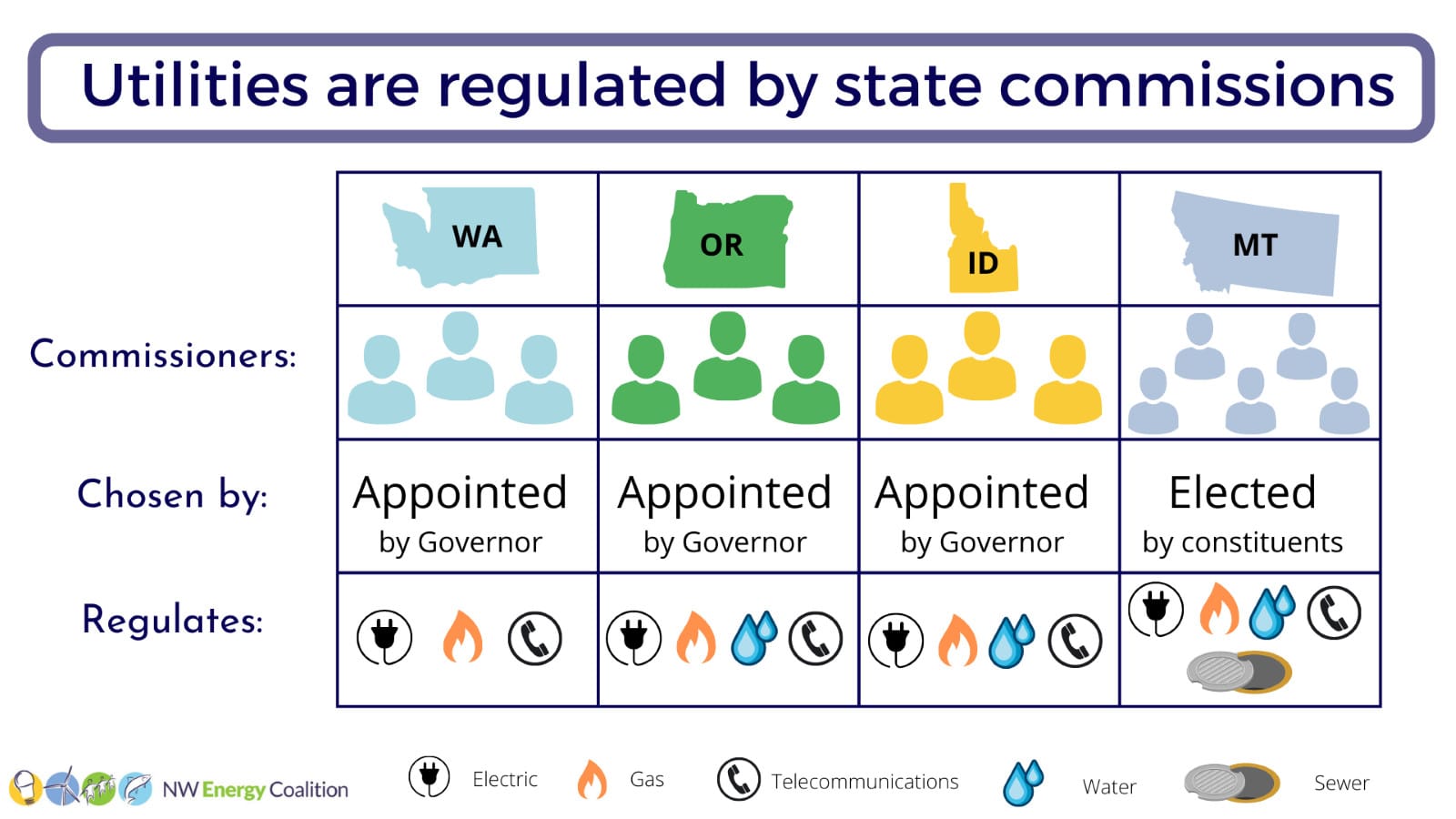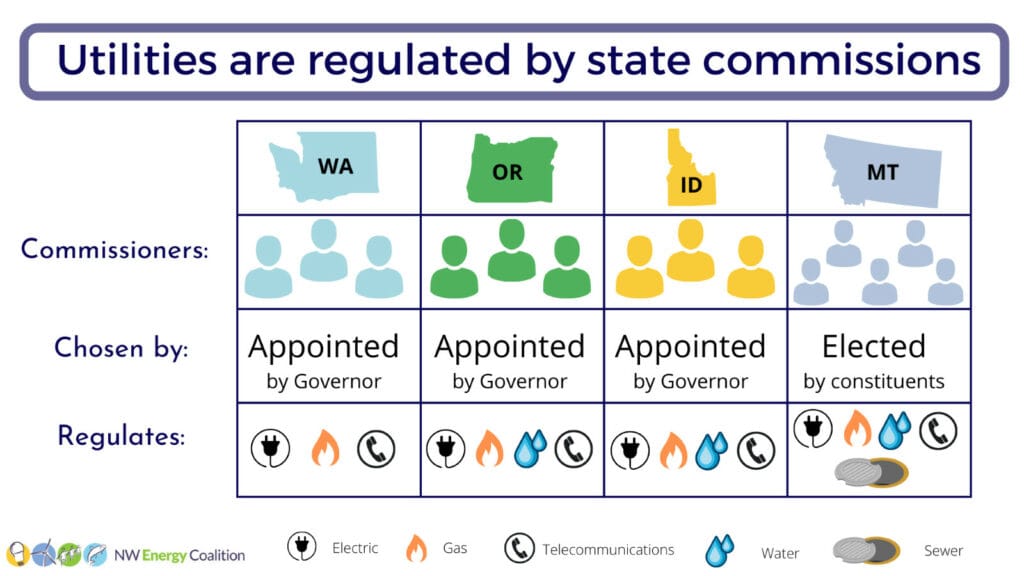 These commissions exist to protect customers and ensure safe, reliable, quality, and fairly priced services for all residents, and have several strategic goals:
Protect life and property
Support strong, stable industries
Use public resources efficiently
Protect consumers from poor service and unfair rates
Promote environmentally responsible energy production and services
Consumer-owned utilities (COUs) are not regulated by state commissions. Two types of COUs, Public Utility Districts and Cooperatives, are governed by nonpartisan, locally-elected community members or members of the Co-Op that serve terms of varying lengths, depending on the utility. Municipal utilities, a third type of COU, are usually a department within city government and are governed by the City Council or a separately appointed utility governing board.
Customer Advocates are Independent Ratepayer Advocates
In the 1970's and 1980's energy prices in the Northwest began to climb. To protect consumers, several Northwest states established independent ratepayer advocates, designated by state law. The role of customer advocates is to ensure fair, just, and reasonable rates, quality and reliable service, price stability, and customer services from investor-owned utilities.
In Washington State, the Washington Attorney General's Office of Public Counsel represents customers in WUTC proceedings, in state courts, and before the legislature. In 1984, an Oregon initiative created the Oregon Citizens' Utility Board, which represents Oregonians in front of the OPUC and educates lawmakers. The Montana Office of Consumer Counsel is established in the state constitution to advocate for consumers before the MPSC, as well as federal agencies and in court proceedings. Idaho is the only Northwest state to not explicitly establish this role, however the Idaho PUC does have quasi-judicial and executive capacities to enforce the laws they pass, hear complaints, and write decisions similar to court orders.