Montana organizations unite to oppose Trump administration budget cuts and policies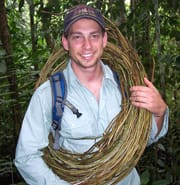 On Tuesday, NW Energy Coalition policy analyst, Diego Rivas, joined representatives from the Montana Wildlife Federation and the Montana Farmers Union as well as Helena City Commissioner Andres Halladay to publicize federal government policies and proposed budget cuts that threaten Montana's economy and communities.
The event was part of a three-city tour to draw attention to federal agencies and programs that are slated for deep cuts under the Trump administration's proposed 2018 federal budget.
Under that proposal, the portion of the Environmental Protection Agency budget that pays for Brownfield remediation efforts would be cut by 30%. And the enforcement budget for Superfund sites, of which Montana has sixteen, would be cut by 45%.
The Department of Energy would only be cut by about 5%, but a disproportionate share of that cuts would come from renewable energy programs. Funds to support wind energy, which is a growing part of Montana's energy economy would be cut by 67%. Funds for energy efficiency would be cut by 69%. And the Home Weatherization Assistance Program and Low Income Home Energy Assistance Program (LIHEAP), which is run out of the Department of Health and Human Services and upon which many Montanans depend, would be eliminated altogether.
The Interior Department's Land and Water Conservation Fund would be reduced by 84%.  That program has funneled more than $200 million into Montana to pay for wildlife habitat protection, soccer fields, swimming pools, trains, and more than a hundred fishing sites throughout the state.
Meanwhile, Montana farmers would squeezed by $2.5 billion in cuts to Agriculture Department crop insurance subsidies, $1.7 in cuts to the Food For Peace program that purchases food for international aid, and a $360 million cut to the Agricultural Research Service. But, the largest cut in agriculture of $4.7 billion would hit the SNAP program, which administers food stamps, resulting in loss of sales to farmers and loss of access to food for low-income Americans.
Montana's national parks, which are a critical driver of jobs and tourism, would be affected by a 12% budget reduction.
These proposed budget cuts would take place at a time when other Trump administration policies pose imminent threats to Montanans. Farmers and sportsmen are beginning to see tangible effects of climate change, which threatens to increase the frequency of extreme weather conditions including drought.