Inslee unveils emissions reduction agenda
A blueprint for transitioning to a clean energy future
Yesterday, Washington Governor Jay Inslee outlined his policy strategy to address the challenge of climate change. The governor's package features proposals to reduce greenhouse gas emissions from the electricity system, buildings, the transportation sector, fuels, and hydrofluorocarbons.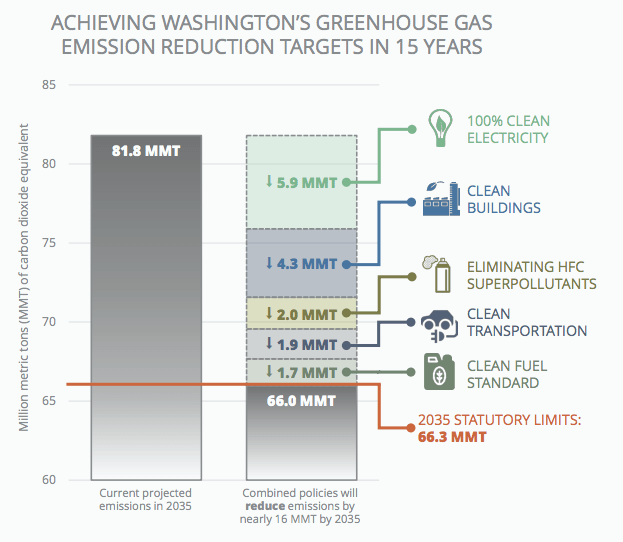 The governor's plan, if enacted and fully realized,  would reduce greenhouse gas emissions by nearly 16 million metric tons by 2035 in order to meet Washington's GHG reduction targets.
Nancy Hirsh, executive director of the NW Energy Coalition, thanked the governor for taking a multi-faceted approach to a multi-faceted problem. Emphasizing the importance of matching the governor's vision with well-crafted legislation that provides appropriate incentives and clarity of direction, Hirsh had this to say.
"Strong policy and incentives for reducing GHG emissions in the buildings and utility sectors are critical pieces in the overall strategy for economy wide action to address climate change and advance clean energy investments.
"This package must create clear action for near-term progress to transition to clean electricity and to zero net carbon buildings and provide certainty for businesses and consumers with a roadmap for achieving longer-term emissions reduction goals outlined by the scientific community.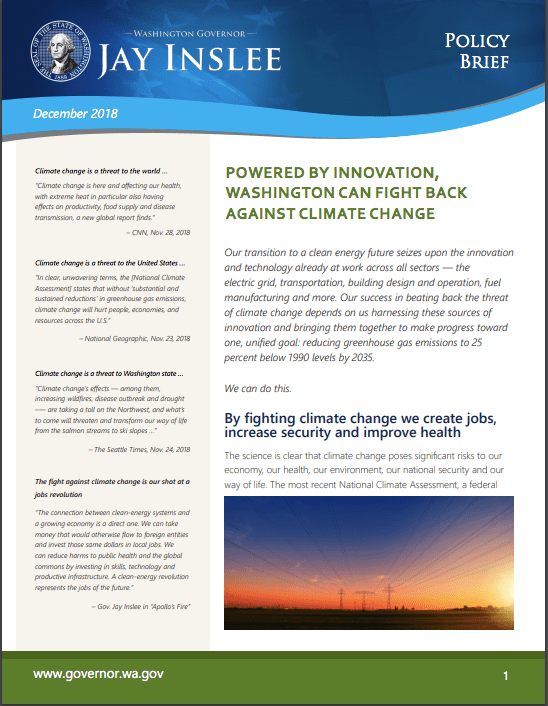 "Policymakers must be ready to help utilities transform into energy service providers, empower communities to have an active voice in the energy transition and ensure that market signals and tools work effectively to affordably transform our buildings and our utility system.
"We thank the Governor for his vision for action to reduce climate pollution and his team for their hard work with stakeholders to develop a multi-sector platform for action.  We look forward to working with the legislature and all stakeholders to refine these policies to ensure that they can deliver the tools and resources that communities and businesses need."
More about Governor Inslee's proposals can be seen in a policy brief titled "Powered by innovation, Washington can fight back against climate change".