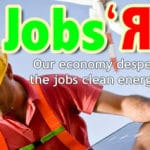 The Energy Activist – Summer 2011


FEATURED ARTICLES
From the Executive Director:
Coalition and labor unions have long history
For 30 years NW Energy Coalition and organized labor have maintained a complex relationship. The challenges have been great, but the rewards for all of us have been greater.




Energy vampires: DVR, cable and satellite boxes waste $2 billion of electricity every year
According to a new study from Coalition member Natural Resources Defense Council, set-top boxes such as DVRs and cable receivers, squander the annual energy output of six coal burning power plants because they are not equipped to power down when not being used.

New federal salmon bill introduced
If passed, The Salmon Solutions and Planning Act would provide federal agencies with up-to-date, thorough information about how best to protect and restore wild salmon and steelhead in the Pacific Northwest's Columbia and Snake River Basin while also supporting local communities and saving taxpayer dollars.

ALSO IN THIS ISSUE
Efficiency Works! project comes to an end
In late 2008, the NW Energy Coalition initiated the Efficiency Works! project to accelerate Northwest businesses' energy efficiency investments. The project's two-year run has ended, but the impacts from it remain.

Coalition welcomes five new member groups
The NW Energy Coalition family continues to grow! In the past year, the Coalition's governing board has accepted membership applications from five organizations, bringing our total organizational membership to 112. Say "hello" to our new members inside!




Regional updates
Highlights from the May 2011 Executive Board caucus reports


PARTING SHOT
NW Energy Coalition executive director Sara Patton addresses the crowd at a May 24 event highlighting survival solutions for salmon species endangered by federal dams in the Northwest. "A Tale of Two Rivers – the Elwha and the Snake" celebrated the scheduled removal of salmon-killing dams on the Elwha River in northwest Washington and served as the Seattle premiere of the movie
The Greatest Migration
, which traces the travels of Snake River wild salmon whose survival is threatened by the four lower Snake River dams.
Patton cited the Coalition's
Bright Future
report in explaining how the power from those four dams can be affordably replaced with clean energy – new renewable energy and energy efficiency
. (Photo by Joseph Bogaard, Save Our Wild Salmon coalition)