Webinar Series: Emerald Cities
Emerald Cities is hosting a High Road Development webinar series. Each webinar will be hosted by experts in housing and renewable energy projects to help you build the skills and provide the information needed to implement energy efficiency and renewable projects in your community.


The Affordable Housing Opportunity – Tuesday, February 16, 2021
2pm – 3:30pm (EST) / 11am – 12:30pm (PST)
This is the first webinar in the series of three, and it will highlight the landscape, imperatives and the unique development opportunities and challenges for different types of affordable housing.
Featured Speakers:
Lauren Ross, American Council for Energy Efficiency Economy (ACEEE)
Jennifer Somers, Energy Foundation
Sunia Zaterman, Coalition of Large Public Housing Authorities (CLPHA)
Local Initiatives Support Corporation (LISC) speaker to be announced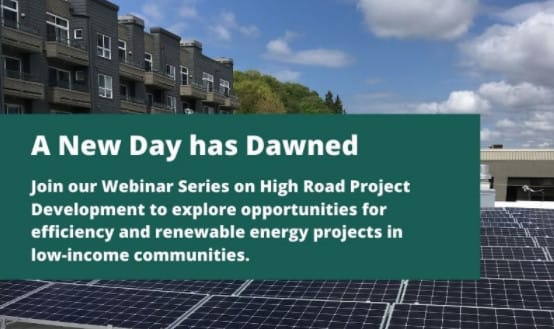 Save the Date: Other Webinars in the Series
Efficiency Project Development Strategies in Affordable Housing – Tuesday, March 9, 2021
2pm – 3:30pm (EST) / 11am – 12:30pm (PST)
Equitable Solar Development – Tuesday, March 30, 2021
2pm – 3:30pm (EST) / 11am – 12:30pm (PST)