2023 CUB Energy Policy Conference – October 6, 2023
The Oregon Citizens' Utility Board (CUB) is hosting the Building(s) for an Equitable Energy Future conference on October 6, 2023 in Portland, Oregon.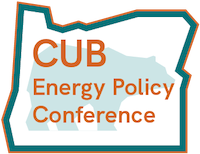 When: 9:00am – 5:00pm, October 6, 2023
Where: The Leftbank Annex (101 N Weidler St, Portland, OR 97227)
Website: oregoncub.org/conference

Building(s) for an Equitable Energy Future will explore how construction, energy systems, and local climate policies overlap. The conference will dive into who is informing clean energy policies and the community impacts of these decisions. This is a great chance to make connections between community advocates, the energy industry, the buildings industry, and policymakers. The conference will bring in vital perspectives from communities on the front lines of climate change in the Pacific Northwest. Together, we can build an energy transition that works for all of us.

The CUB Policy Conference is designed as a day of discussion, networking, and sharing diverse
perspectives. This conference is ideal for community groups, regulators, advocates, utility
representatives, attorneys, or those interested in our region's energy industry.

To register, please visit: oregoncub.org/conference