Coalition presents its two highest awards
Headwaters to efficiency pioneer Mary Smith; Columbia Basin Tribes group receives Eagle
The NW Energy Coalition recently honored one group and one individual for their efforts in building a clean and affordable energy future.
On May 18, former Coalition executive director Sara Patton presented the Headwaters Award to Seattle's Mary Smith. The Headwaters Award recognizes a member of NWEC's extended family for outstanding achievements, and Mary Smith truly embodies all that the award stands for.
Smith was cited for her work on energy efficiency work with Seattle City Light beginning in the 1970s, her subsequent work with Snohomish PUD and for her instrumental role in creating the Northwest Energy Efficiency Alliance. She mentored and inspired a generation and more of conservation program leaders at public and investor-owned utility conservation leaders throughout the region, many of whom attended the ceremony to celebrate her accomplishments.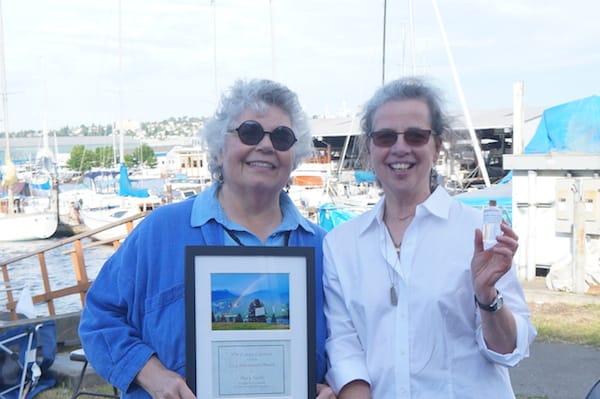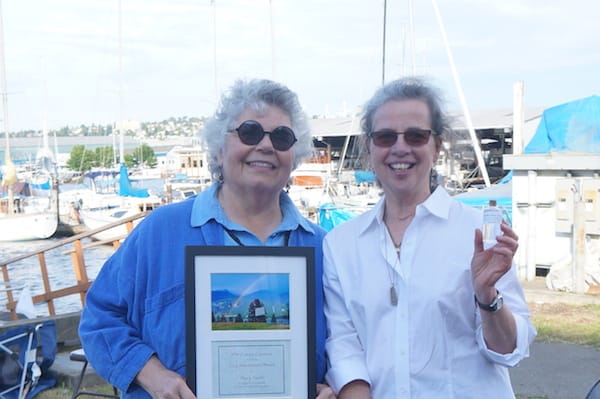 The following day, current Coalition executive director Nancy Hirsh attended the Affiliated Tribes of Northwest Indians mid-year convention on the Warm Springs Reservation near Bend, Ore. She brought NWEC's highest award, the Conservation Eagle, to give to the Coalition of Columbia Basin Tribes.
The group, comprising 15 Northwest tribes, effectively advocated adding ecosystem function as a designated purpose of the Columbia River Treaty, now being reconsidered by the U.S. and Canada. The Coalition of Columbia Basin Tribes persuaded the U.S. entity and eventually the State Department to adopt its position.
D.R. Michel and Paul Lumley accepted the Eagle Award on behalf of the Coalition of Columbia Basin Tribes.