Washington enacts law to spur building efficiency, resilience upgrades
Leveraging private funding for public good: efficiency and resilience upgrades made easier with C-PACER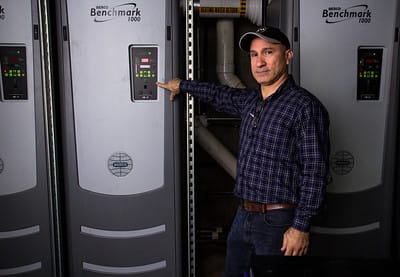 Upgrades to make commercial and apartment buildings more resilient and energy efficient will soon become easier in Washington. The state legislature has passed and sent to the governor House Bill 2405, the Commercial Property Assessed Clean Energy and Resilience bill, also known as C-PACER. 
C-PACER makes clean energy, energy efficiency, and seismic upgrades to commercial and apartment buildings more affordable by enabling owners to acquire private sector financing that can be repaid over longer periods of time than traditional loan options.  And, because the loans will be treated as assessments on the building, the obligation will transfer with the building in the event the owner chooses to sell.
The kinds of improvements that can be covered include solar panels, high-efficiency heating and cooling systems, insulation, and structural retrofits to make buildings more durable in the event of an earthquake or other natural disaster.  By allowing building owners to finance up-front costs and pay back the loans over time, at least some of the cost will covered by concurrent savings on utility bills, lower insurance premiums, and other operating costs.
The concept of C-PACE is familiar nationwide, with more than 20 states having active programs. Since these programs became active in 2008, more than 2,000 projects have been financed with C-PACE, representing more than $1 billion in investment. Past efforts to bring C-PACE to Washington ran into questions associated with Washington State's Constitution, which prohibits the lending of state credit. However, this legislation was crafted to ensure that the benefits can flow to building owners, tenants, and the public, while avoiding any Constitutional questions.
Under the law, the Washington Department of Commerce can establish a statewide voluntary program in which counties may choose to participate, or counties may establish their own county-level programs.  In either case, building owners will be required to provide documentation concerning the upgrade plans for the buildings and the associated costs to qualify for the program.
C-PACER was supported by a broad coalition of interests, including environmental groups, building owners, emergency managers, building officials, and historic preservation interests. The bill passed the Washington House by a vote of 93-4 and the Senate by 40-7. Representative Davina Duerr and Senator Liz Lovelett were the bill's lead sponsors in both chambers. Representative Beth Doglio, who sponsored the bill in the 2019 legislative session, was also instrumental in getting it passed this year.  NW Energy Coalition efforts to enact C-PACER were led by policy associate Amy Wheeless.  Please feel free to contact Amy if you have any questions concerning the new law.