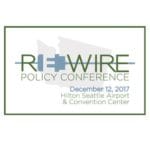 Re-Wire conference to explore energy regulation and policy – Dec. 12
Coal, Solar, and the Changing Nature of NW Energy Delivery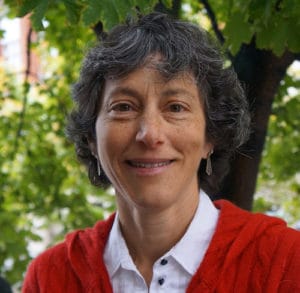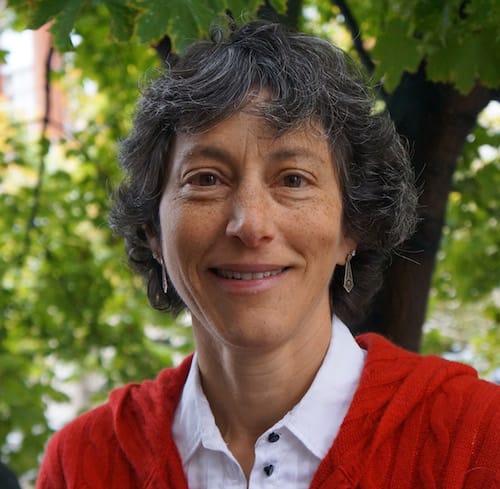 Energy consumption and production in the Northwest is changing rapidly.  Is the state's regulatory framework keeping pace?  Is it supporting or stifling innovation? Are politics getting in the way of the practical?  A group of panelists that includes Nancy Hirsh, executive director of the NW Energy Coalition, will take up these questions, and look to the policy discussions ahead that will inform the 2018 legislative session in Olympia.
Other panelists include George Caan, Executive Director of the Washington Public Utility Districts Association, and Representative Jeff Morris, chair of the House Technology and Economic Development Committee.
The energy panel is just one of many presentations and panels that make up the day-long conference, which features numerous elected officials from state and local government addressing a wide array of policy issues and political questions.  A summary of the sessions, many of which will be held concurrently, follows.
Morning Keynote: Beware the Pitchforks from Widening Inequality
Nick Hanauer is one of the country's leading voices on the state of America's political economy.  In a seminal message delivered in Politico and a TED talk in 2014, Hanauer said "Beware, fellow plutocrats, the pitchforks are coming."  His argument is not a moral one, but an economic one: a functioning democracy and thriving economy require a strong, vibrant middle class.  Today, his argument fits within the federal context:  a poorly functioning national policy environment makes an active state-level policy vision even more important than ever if we want to avoid pitchforks coming for us.
Nick Hanauer:Co-Founder and Partner, Second Avenue Partners
Looking Ahead to the 2018 Elections
The 2018 legislative and congressional elections will be some of the most active, high cost, and potentially divisive in recent memory.  This panel will look ahead to how the landscape will shape up, the impact of President Trump, and what we should be keeping our eyes on as the election unfolds.
Hon. Hans Zeiger:Member, Washington State Senate
Chad Minnick:Managing Partner, Minnick Group
Tina Podlodowski:Chair, Washington State Democratic Party
Addressing Washington State's Tax Structure
Whether or not there is enough money in Washington State politics may be a topic on which good minds can disagree.  However, most observers recognize the structure of the Washington State tax structure is increasingly out of step with the economy, placing higher tax burdens on lower and middle income families. This panel will take up the topic and explore whether there are policy areas to support tax fairness around which a consensus might build.
Hon. Noel Frame:Vice Chair, House Finance Committee
Hon. Drew Stokesbary:Member, House Finance Committee
Andy Nicholas: Associate Director, Fiscal Policy, Washington Budget and Policy Center
Breaking Through: Lessons in Political Communications and Campaigns
From fake news to cable news, from social media to podcasts, there is so much noise in the world of politics and policy it's hard to deliver a coherent message that will be heard by your audience. This panel of experts will talk through the challenge from the view of both governing and campaigning.
Hon. J.T. Wilcox:Co-Chair, House Republican Organizational Committee
Jaime Smith:Executive Director, Office of Governor Jay Inslee
John Wyble:Managing Partner, Winpower Strategies
We "Fixed McCleary" – Have We Fixed Public Education?
While the legislature took action that some believe addresses the McCleary decision, not everyone thinks the job is done. This panel will explore one of the most challenging issues in Washington State for the last generation: how can we solve our public education challenges?
Hon. Paul Harris:Ranking Minority Member, House Education Committee
Hon. Reuven Carlyle:Member, Senate Ways & Means Committee
Jami Lund:Senior Policy Analyst, Freedom Foundation
Julie Salvi:CompensationLobbyist, Washington Education Association
Local Government in a Time of Pres. Trump
Governing during a time of federal policy uncertainty is always a challenge.  That is particularly true during President Trump's term.  How does these impact local governments? From sanctuary cities to federal funding restrictions, this panel will talk through the unique challenges faced by local government vis-a-vis the federal government.
Hon. Joe McDermott: Council Chair, King County Council
Hon. Derek Young:Councilmember, District 7, Pierce County Council
Hon. Terry Ryan:Councilmember, District 4, Snohomish County Council
Hon. Breean Beggs:Councilmember, District 2, Spokane City Council
The Widening Divide between Urban and Rural Economies
The Puget Sound economy is booming and its politics continue to move leftward.  Outside of that bubble, however, many parts of the state are struggling, with politics moving to the right. Taken together, it's potentially one of the most important shifts in Washington State – economic and political – in the history of the state.  This panel will dig into the details and elevate potential policy measure to help bridge the divide.
Stuart Elway:Chief Executive Officer, Elway Research
Colleen McAleer: President, Washington Business Alliance
Nick Harper:Senior Director of Strategy and Policy, Master Builders of King and Snohomish Counties
Wendy Hutchinson:Vice President of Public Affairs, Millennium Bulk
Getting Value from the State's Health Care Spend
The size of the state health care budget has ballooned under the Affordable Care Act. But, it's not entirely clear that taxpayers are getting good value for their spend here. This panel of subject matter experts will explore this issue ahead of continue budget pressure in the 2018 session.
Pam MacEwan:Chief Executive Officer, Washington Health Benefit Exchange
Peter Adler:President and CEO, Molina Healthcare of Washington
Dan Lessler, MD: Chief Medical Officer, Washington State Health Care Authority
Policy Vision: Democrats
With control over both chambers of the legislature, legislative Democrats have more power over the policy agenda than they have in years. This panel will give legislators an opportunity to talk through their plans and vision for the 2018 session.  Bring your questions!
Hon. David Frockt:Capital Budget Writer, Washington State Senate
Hon. Zack Hudgins:Chair, House State Government, Elections & Information Technology Committee
Hon. Mia Gregerson:Vice Chair, House Labor & Workplace Standards Committee
The Intersection of Banking, Finance Issues, and Good State Policy
The impact of policy on the ability for the financial system to operate effectively has direct implications on the ability of lenders and financial institutions to provide the liquidity the market needs to grow.  However, a regulatory regime that is too loose can result in significant issues harming businesses, lenders, and most importantly, residents of the state.  This session will explore the issues and policy responses teed up for the 2018 legislative session.
Hon. Lisa Wellman:Vice Chair, Senate Democratic Caucus
Alan Crain:Vice President, Kitsap Bank (invited)
Gary Strannigan: AVP, Public  Affairs, Liberty Mutual Group (invited)
Identity Politics, White Supremacy and the Alt-Right
The political spectrum nationally seems to have expanded to include formerly excluded perspectives on the far right. Does this create a strategy for the right to embrace, as some outlets suggest?  Or, is this kind of politics anathema to the model of northwest Republicanism? This panel will talk through this new activity on the political right and discuss what it means for Washington State politics.
Hon. Paul Graves:Assistant Ranking Minority Member, House Health Care & Wellness Committee
David Neiwert:Pacific NW Correspondent, Southern Poverty Law Center
Robin Koerner: Commentator, Huffington Post
The Hirst Decision and the Capital Budget: What's the Hold Up?
Water is one of the most important issues in Olympia in 2017, a status that is likely to continue for a long while.  In 2018, it is directly connected to the capital budget, which is connected to McCleary. In other words, the subject is tied into so many policy discussions, it's impossible to overlook.  This panel will include some of the most important voices in the discussion about water, about Hirst, and about economic development.
Hon. Judy Warnick:Ranking Minority Member, Senate Agriculture, Water, Natural Resources & Parks Committee
Hon. Larry Springer:Member, House Agriculture & Natural Resources Committee
Dawn Vyvyan:Attorney, Vyvyan Law Offices
Lunch Keynote: A Conversation With Slade Gorton
Former US Senator Slade Gorton is one of the most successful Republican elected officials in modern political history in Washington State.  This lunchtime keynote panel will be an informal conversation with these this civic leader about the current state of politics, both in Washington State and Washington DC, as well as a look ahead to issues on the horizon for civic leaders and policy makers.
Hon. Slade Gorton:Former US Senator, State of Washington
Policy Vision: Republicans
This panel will include Republican policy makers from across the policy spectrum to talk through their plans and expectations for 2018.  This will include a discussion of fiscal and policy issues ahead of the 2018 legislative session, and may take up the politics outside of Olympia, as well.  Bring your questions to what is sure to be a well attended session.
Hon. Dick Muri:Assistant Ranking Minority Member, House Education Committee
Hon. Bruce Chandler:Ranking Minority Member, House Appropriations Committee
Hon. Norma Smith:Ranking Minority Member, House Capital Budget Committee
Hon. Melanie Stambaugh:Member, Washington House of Representatives
Decline of Parties and Rise of Independent Political Action
The role of the party apparatus is diminished significantly on both sides of the aisle, replaced in part by an ascendant role for outside interest groups. What does that mean for our politics?  Does that empower the voice of the people through the ballot box or stifle a constructive dialog? This session will talk through both the mechanics of this shift and the implications for our politics moving forward.
Chris Vance:Former Chairman, Washington State Republican Party
Zach Silk:Chief Executive Officer, Civic Skunk Works
Talking to Ourselves: The Polarization of Media Delivery and Consumption
It's clear the business model of the media today is shifting. Some of the consequences include the rise of fake news, a narrowing of our diversity of outlets, and an increasing divide between the realities perceived by left and right.  These panelists will discuss the topic as it applies to Washington State, and offer policy options – both public and private – that might support solutions moving forward.
Frank Blethen: Publisher, The Seattle Times
Renee Radcliff Sinclair:President, TVW
Jim Boldt:President, Duckabush Communications
Erica Barnett:Publisher, The C is for Crank 
Homelessness: Why Are We Not Having Success?
The homelessness situation is dire in Puget Sound, made more dramatic by a largely inefficient and ineffective policy response by state and local governments. These subject matter experts will talk through the public policy options before our communities and how we might get smarter about the challenges before us.
Hon. Nicole Macri: Vice Chair, House Community Development, Housing & Tribal Affairs Committee
Hon. Mark Miloscia:Ranking Minority Member, Senate State Government Committee
George Scarola: Director of Homelessness, City of Seattle
Jonathan Martin:Assistant Metro Editor, The Seattle Times
Olympia Insiders Look Ahead to the 2018 Legislative Session
This panel of lobbyists and government relations professionals will talk through some of the moving pieces ahead in the 2018 legislative session.  They'll provide the insight from their work in the short interim period and from their conversations with leading policymakers from both parties. If you want to know where the 2018 legislative session is going, this is one of the best rooms to be in to learn about it first hand from some of the players that will be making it happen.
Adrienne Thompson:Government Affairs Director, Professional & Technical Employees Local 17
Isaac Kastama: Principal, Water Street Public Affairs (invited)
Joe Kendo:Government Affairs Director, Washington State Labor Council (invited)
Block Chain, Automation and the Looming Economic Disruption
The economic disruptions of the next decade are percolating today. With opportunity for many will come displacement for some.  So, where are things heading, and how should public policy support that transition in a thoughtful, careful and constructive way?
Jonathan Johnson:Chairman of the Board, Overstock
Joseph Williams:Director of Economic Development for the Information and Communication Technology Sector, Washington State Dept. of Commerce
Paul Berendt:Senior Vice President, Strategies 360 (moderator)
The Policy Response to the Gig Economy
The economy is changing rapidly, and about to shift even more with further economic disruption on the horizon.  How should policy makers and advocates respond to this changing economic reality?  This session will include some of the most important voices is this gig economy discussion which will touch on both state and local policy implications.
Lani Todd:Legislative and Policy Director, SEIU 775 
Hon. Matt Manweller:Ranking Minority Member, House Labor & Workplace Standards Committee
Nathan Hambley:Communications Director, Pacific NW, Uber (invited)
Hon. Mike Sells: Chair, House Labor & Workplace Standards Committee (invited)
Responding to Climate Change in Washington State
The issue of climate change continues to rise in importance. Yet, there is still no consensus view about what to do about it. This is particularly true among those that believe something must be done.  This session will explore the policy topic, including ideas for legislative action and a look ahead to a ballot measure that is almost certainly to be before voters in 2018.
Hon. Guy Palumbo:Vice Chair, Senate Energy, Environment & Technology Committee
Kyle Murphy:Executive Director, Carbon Washington
Todd Myers:Director, Center for the Environment, Washington Policy Center
Afternoon Keynote: The Future of Progressive Politics
The Democratic Party has been in period of soul searching since the 2016 Presidential primaries.  Is it a party of the workers?  Does it represent middle class Americans?  Is it about good, data-driven government or revolutionary politics in a time of steep corporate influence?  This panel of progressive elected officials represent a broad swath of the "big tent" that is the party. They represent a diversity of voices and perspectives among leading Democrats in Washington State. This discussion will talk about what it means to be a Democrat, the future of the Party in Washington State, and the role Washington State Democrats might play in an era of President Trump.
Hon. Steve Hobbs: Chair, Senate Transportation Committee
Hon. Dow Constantine:County Executive, King County
Hon. Teresa Mosqueda: Councilmember, Seattle City Council (invited)