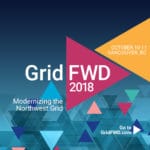 GridFWD 2018: Defining the future of the NW grid – October 10-11, Vancouver, BC

Help define the future of the Pacific Northwest energy system at GridFWD 2018, the premier event about deploying advanced solutions to modernize our regional grid. Join leaders from utilities, solution providers, regulatory agencies and governments who are working together to improve the flexibility, resiliency, operation and electrification of the region's power. Hosted by Smart Grid Northwest at the Pinnacle Harbourside Hotel in Vancouver, BC October 10-11, 2018.
Who Should Attend
Executive and technical leaders at solution providers—collaborate with key power sector stakeholders to deploy new technologies and processes that modernize distribution systems in the region, as well as innovative solutions for transmission, microgrids and more.
NGOs and advocates—build the knowledge base and relationships to influence new programs that promote progress on regional energy systems.
Utilities executives and thought leaders—learn and share new sources of value and best practices for delivering more flexible, resilient and sustainable energy systems.
Regulators and government officers—explore the latest ideas, opportunities, deployments and best practices that point the way to economic, equitable and efficient power systems, and workforce development in the new energy age
Learn more and register today at www.GridFWD.com