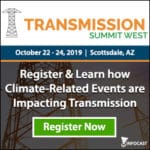 Transmission Summit West – October 22-24 in Scottsdale, AZ
Transmission Summit West 2019 will bring together regulators, utilities, and transmission experts to explore new approaches to regional coordination, examine the emerging business models that will enable needed investments, and answer the key questions that will govern future transmission development:
How much investment in new transmission lines, storage and other technologies is necessary to realize state goals?
What demands will EIM expansion into day-ahead markets make on transmission, and are there lessons to be learned from how SPP integrates renewables?
What's the status of transmission projects aimed at connecting remote renewables to load centers?
How will revised IRP processes impact transmission planning?
What impacts will the threat of wildfires and other climate events have on system hardening, technology deployment and transmission operations?
Plus, attend the Executive Briefing Optimizing Renewable Integration Planning in the West to learn how to best adapt to transmission's shifting role, gain an understanding of the regulatory outlook, and strategize transmission planning processes.