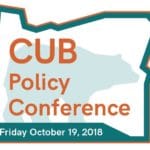 Destination Decarbonization: CUB 2018 Policy Conference — October 19, Portland
Destination: Decarbonization 
The eighth annual CUB Policy Conference will take place on Friday, October 19, 2018 at the Downtown Portland Hilton. Registration for Destination: Decarbonization, is now open! Early Bird pricing is in effect through Friday, September 28.
In Oregon, the nature of our discussions about climate change and utilities has changed. We have moved from talking about how we consider the risk of carbon regulation, to actively working to decarbonize our utilities. The next step is to use our clean, decarbonized electricity to decarbonize transportation and the wider economy. We used to talk about the state's carbon goals as aspirational. But now we are planning around those goals. This is a dramatic shift with big implications, which we will explore at our 2018 Policy Conference.
What effect will this have on our communities? As decarbonization drives digitalization of the grid, what are the implications for consumer privacy, and how do we avoid a new "digital divide" in the energy sector? What role will using electricity to manufacture natural gas (Power-to-Gas) play as we attempt to utilize periods of renewables over-generation? Will Power-to-Gas and renewable natural gas allow us to decarbonize our gas sector? Do we need to change how we manage parts of the system – from utility business models, to regulatory incentives, to regional grid management? And most importantly, can we fix our energy systems so they are sustainable in a carbon constrained world?
This CUB Policy Conference is specifically designed to educate analysts, attorneys, advocates, regulators, utility executives, and others working in and around the energy industry. CUB will be applying for Continuing Legal Education (CLE) credits for this conference from the OR and WA Bar associations.
Conference Agenda
7:15am – 8:00am:

  

Check In

8:00am – 8:30am:

  

Welcome and Opening Keynote

Pavilion

Speaker: Bob Jenks – Executive Director, Oregon CUB

8:30am – 9:45am:

  

Opening Panel: The View From the Top: A Conversation with NW Utility CEOs

Pavilion

Panelists:

Moderator: Bob Jenks – Executive Director, Oregon CUB

9:45am – 10:00am:

  

Break

10:00am – 11:15am:

  

Break-Out Session 1

Topic 1: The Connected Utility: Data And Digitalization
Panelists:

Hector Dominguez – Open Data Coordinator/Smart Cities Program, City of Portland
Shawn Irvine – Economic Development Director, City of Independence
Representative Pam Marsh – 5th District, Oregon Legislature
Kerstin Rock – Senior Vice President, Operations, LO3 Energy

Moderator: Samuel Pastrick – Outreach Manager, Oregon CUB

"Information and communications technology (or technologies)" describes the world of Internet-enabled devices, applications, and network infrastructure that, when combined, connect a diversity of end users, including utilities (both energy and telecommunications) and their customers. This ever-expanding, connected universe of individuals, businesses, governments, nonprofits, and utilities presents new opportunities and challenges for these groups to meet broad societal needs – especially those experiencing cultural, economic, or other imposed barriers. This panel will discuss these issues, as well as the role and possible downside of employing information and communications technologies to drive sweeping decarbonization.

Topic 2: Community Decarbonization And Beyond
Panelists:

Nestor Campos – Education Coordinator, Verde
Carol Chan – Living Cully Coordinator, Living Cully
Alan Hipólito – Executive Director, Verde
Carolina Iraheta Gonzalez – Community Energy Advocate, Verde

Moderator: Janice Thompson – Advocacy Director, Oregon CUB

Decarbonization efforts increasingly occur at neighborhood and community levels. Local efforts frequently address a multitude of goals beyond energy efficiency and renewable energy projects to reduce greenhouse gas emissions. For instance, ensuring a more just transition for communities hurt first and worst by climate change is a major motivation for interconnecting energy improvements with job training and affordable housing development without displacement of low-income residents. Integrated local efforts can result in greater community resilience with alignment of economic benefits as well as health, livability, and decarbonization goals.

11:15am – 12:00pm:

  

Networking Break

12:00pm – 1:00pm:

  

Consumer Champion Award Luncheon

Pavilion
Moderator: Bob Jenks – Executive Director, Oregon CUB
Honoree and Middday Keynote: TBA

1:00pm – 1:15pm:

  

Break

1:15pm – 2:30pm:

  

Break-Out Session 2

Topic 3: The Role Of Gas In A Decarbonized World
Panelists:

Daniel Avery – Senior Policy Analyst, Oregon Department of Energy
Adam Capage – Vice President – Corporate and Government Affairs, 3Degrees
Ken Dragoon – Principal, Flink Energy Consulting
Bill Edmonds – Director of Environmental Management and Sustainability, NW Natural

Moderator: Will Gehrke – Economist, Oregon CUB

Legislatures across the country are moving toward decarbonizing the economy. Gas utilities have started to explore innovative programs such as power-to-gas and renewable natural gas installations as we integrate into a low-carbon, renewable energy future. What role do natural gas and the existing natural gas networks play in a decarbonized world? Can the existing distribution network be adopted to provide carbon neutral fuel to customers? What are local gas utilities in Oregon doing to address these changes?

Topic 4: Going Macro: Efficiency At The Grid Level

Don Furman – Director, Fix The Grid Coalition
Jason Salmi Klotz – Manager of Emerging Technologies, Customer Energy Solutions, Portland General Electric
Mary Wiencke – Vice President, Market, Environmental, & Transmission Policy & Strategy, PacifiCorp

Moderator: Rick Adair – News Editor, Energy NewsData's Clearing Up

The Pacific Northwest has been a leader in energy efficiency. We have invested millions in making our homes and businesses more efficient. Only recently have we turned our attention upstream – to the grid that delivers power. How can we make the grid more efficient? Is it possible that storage, demand response, and distributed generation can make the distribution grid more efficient and reduce distribution investments? Can expanding the Energy Imbalance Market into a more integrated western grid reduce curtailment of renewables? What role does a more efficient grid play in enabling a decarbonized electric sector?

2:30pm – 2:45pm:

  

Break

2:45pm – 4:00pm:

  

Break-Out Session 3

Topic 5: Utility Of The Future: The Changing Business Model
Panelists:

Wendy Gerlitz – Policy Director, NW Energy Coalition
Irion Sanger – Attorney, Sanger Law PC
Adam Schultz – Senior Policy Analyst, Oregon Department of Energy
Brett Sims – Director – Commercial, Strategy Integration and Planning
Jessica Shipley – Associate, Regulatory Assistance Project

Moderator: Mike Goetz – Staff Attorney, Oregon CUB

The times, they are a changin'. New technologies, forward thinking policies, and regulatory and legislative changes across the country are modernizing the grid and electricity system at an accelerating rate. Utility commissions are grappling with whether the existing utility business model and regulatory apparatus is ideally situated to manage the utility system of the future. Does the current utility system provide sufficient incentives for utilities to invest in burgeoning technologies like energy storage and demand response? How should utilities with an increased level of distribution-system generation and flexibility be regulated? Which metrics and incentives should be placed on a utility in a decarbonized world? Should Oregon's vertically integrated investor-owned utilities continue to own generating assets, or should increased competition, including an expanded role for regional energy markets, be explored?

Topic 6: Deep Decarbonization: From Energy To The Economy
Panelists:

Crystal Ball – Oregon Liaison, Bonneville Power Administration
Ryan Bracken – Senior Economist, NW Natural
Angus Duncan – Chair, Oregon Global Warming Commission
Elaine Hart – Manager, Integrated Resource Planning, Portland General Electric
Kristen Sheeran – Energy and Climate Change Policy Advisor, Director Carbon Policy Office, Office of Governor Kate Brown

Moderator: Bob Jenks – Executive Director, Oregon CUB

Carbon emissions from the electric sector have started to decline and this will continue as regional coal plants are shut down. While this trend is important as we work to mitigate global warming, science tells us that we need broad carbon reductions from across the economy, not just from regulated sectors. How do we transition from thinking about carbon risk in utility planning to decarbonization of the economy? What is the role of utilities and the federal hydro system in broader efforts to decarbonize? What policies are needed to drive economy wide carbon reductions?

4:00pm – 4:15pm:

  

Break

4:15pm – 5:00pm:

  

Closing Keynote

Pavilion

Speaker: Megan Decker – Chair, Oregon Public Utility Commission

5:00pm – 6:00pm:

  

Closing Reception