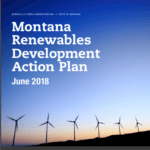 Montana wind on the verge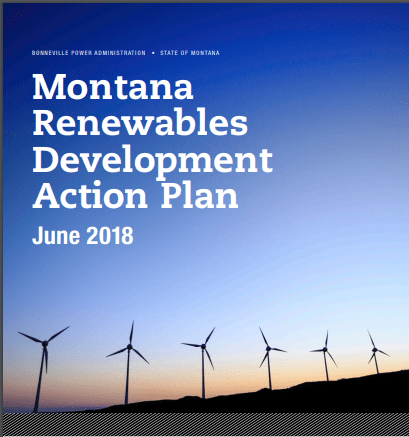 Montana wind energy can start moving across the regional transmission system and throughout the Northwest this year.
That's the conclusion of a new report sponsored by Montana Governor, Steve Bullock, and Bonneville Power Administration (BPA) head, Elliot Mainzer, who enlisted help from regional experts including utilities, renewable energy developers, state agencies, and clean energy advocates including the NW Energy Coalition.
The Montana Renewables Development Action Plan identifies 19 action items to unlock Montana's wind energy potential, which is estimated to be among the greatest in the nation. Montana wind power would complement existing Northwest resources by delivering energy in the fall and winter when output from the region's hydropower system is at its lowest. And it could do so at a lower cost than power generated by coal or less efficient natural gas power plants.
Development of Montana wind power has been hampered by limited access to transmission lines that are largely dedicated to carrying power from the coal-fired Colstrip power plant in eastern Montana to west coast markets. The report provides a detailed roadmap to help open up transmission opportunities.
First among those opportunities is 360 megawatts (MW) of available transmission capacity that exists today. More capacity will become available as Colstrip's coal-fired units start to retire – the first two in 2022. Additional capacity can be gained with modest investments in grid modernization, updated contractual conditions, and improved system planning.
One report recommendation has already been implemented. In June, BPA and NorthWestern Energy resolved a longstanding disagreement about the rights to 184 MW of transmission capacity. Additional actions are also underway:
BPA will conduct a pre-rate case workshop exploring alternatives to the Montana Intertie rate, a transmission fee that makes Montana wind power less cost-competitive.
BPA will consider updating its environmental review, business practices, and tariffs to streamline the flow of Montana wind across the federal transmission system.
NorthWestern Energy will enlist help in preparing for the phase-out of the Colstrip coal units and for the expansion of wind power while maintaining and improving grid stability. That effort may include the development of a pumped storage project at Gordon Butte.
BPA will complete an ongoing study of Montana wind data to determine how best to use the resource.
BPA investments in grid modernization, updating its transmission tariff and system operations, and coordinating with other Northwest utilities will also create new opportunities for Montana wind power.
Still, realizing Montana's wind energy potential will require more than just building new wind farms and making changes to the transmission system. Utilities and other energy customers must start buying Montana wind power.
That could begin with Portland General Electric (PGE), which now has a request for proposals (RFP) for new renewable resources, and with Puget Sound Energy (PSE), which plans to issue a resource RFP later this year. Both utilities are phasing out ownership of coal plants and want to fill the gap with cheap, clean energy that also provides for peak system needs. Montana wind may be just the thing.
The economic and environmental benefits of realizing Montana's wind power potential are clear. As Governor Bullock and BPA's Elliot Mainzer write in their introduction:
"Montana continues to seek opportunities to further develop its renewable energy resources, providing good-paying jobs for Montanans, strengthening rural communities and supporting local schools, while protecting its quality of life. Montana is ready to help the region achieve its environmental and clean energy goals by complementing existing hydropower and other renewable generation in the Pacific Northwest."