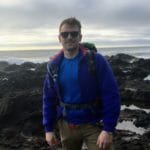 Michael Breish joins Coalition as policy analyst
Michael Breish (rhymes
with "Yeesh"), currently a Senior Utility Analyst at the Oregon Public Utility Commission, has joined the NW Energy Coalition as a Policy Analyst.  Michael will analyze and develop policies relating to transportation electrification, renewable natural gas, distribution system planning, and strategies for reducing carbon emissions as they relate to the electric and natural gas utility industry.
At the Oregon Public Utility Commission, Michael evaluated proposed energy legislation and analyzed utility company rate proposals and integrated resource plans.  He also developed staff positions on issues ranging from distributed generation and community solar to transportation electrification and smart grid policy.   Prior to joining the Commission in 2014, Michael worked as a research analyst at the Boston Pacific Company where he evaluated federal and state policies for onshore and offshore wind energy generation.
Michael is a 2012 graduate of Stanford University where he earned a Bachelors of Science degree in Atmosphere and Energy Engineering.  He will start in his new position at the Coalition on October 2 and will work out of the Seattle office.